Introduction
Well…i was kinda riding high with my last review and was kinda sad that the P8Z77 V Deluxe had to go. But the guys over at Asus had some other plans! So one fine day…I found this at my doorstep!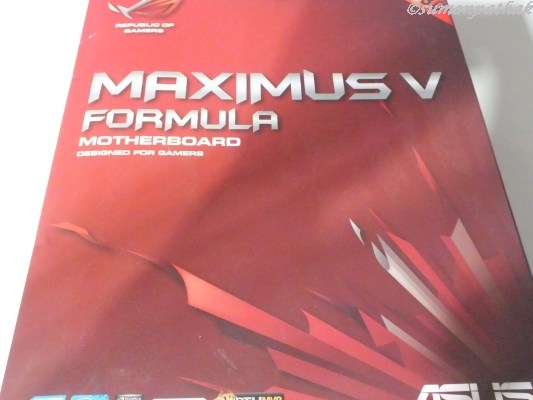 My latest toy..the Maximus V Formula!
Now..before we dive into the product showcase and review lets have a look into the history of ROG line of Hardware and this board in particular Rog was established way back in 2006 with the Crosshair(yes its an AMD board and back in the FX-64 days AMD literally thrashed Intel until the 45nm C2D and C2Q came out),soon they launched another Board Commando and soon other boards followed.
Here's a short history for the guys who are interested:
JUL 2006 – ROG brand established, 1st gaming motherboard named Crosshair launched
DEC 2006- Launched Commando, broke CPU overclocking world record
JUL 2007 – ROG motherboard breakthroughs – Fusion Block system and CrossLinx
DEC 2007 – New ROG product line – gaming notebooks G1/G2
OCT 2009 – ROG Maximus III Formula motherboard with ROG Connect allows PC tuning on a pure hardware level in real time.
JUL 2008 – New ROG product line – Matrix graphics cards launched
OCT 2009 – The first 3D gaming notebook in the world, ROG G53J 3D
MAR 2010 – Rampage III Extreme motherboard attracts attention with great performance and overclockability
JUN 2010 – The world's fastest graphics card launches — the dual 5870 GPU ARES
JUN 2010 – The world's first active-noise cancelling pro gaming headset – Vulcan ANC
OCT 2011 – Launched TYTAN CG8565 desktop
In short ROG offers the best from the stable of Asus and will have everything you need in a motherboard from gaming specific features to overclocking.
Now,enough of history lessons.. Lets have a look at the board and what it offers.