A close look at Maximus V Formula: Part 2
Now lets see whats inside…
The inner flap describes some of the highlights of the board Like Supreme FX audio and Fusion Thermo heatsink. And then we see the board itself in the typical ROG fashion.
Next up the box contents.
This particular SKU comes without the ThunderFx module so everything except that is present.
The bundle includes:
The motherboard
User's manual
Accessories
Support disc
Now , lets look at the board itself:
Typical ROG style board with black and red layout;the thing that strikes out most is the ceramic heatsinks on the VRM and PCH area and the Fusion Thermo heat-sinks.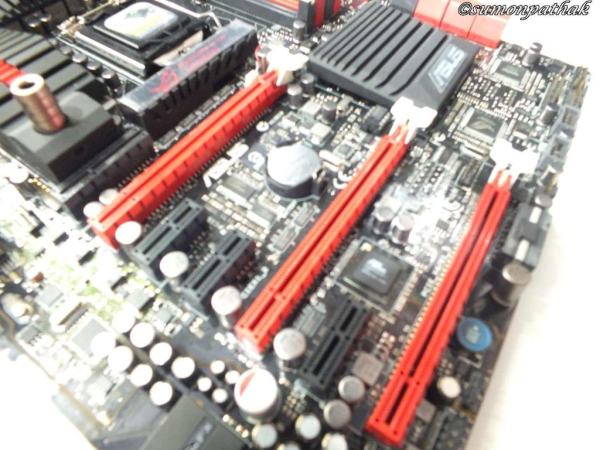 The 4 Pin Connector is for supplying extra power during Sub zero benching.
The External I/O port is packed with stuff(expected with high end board)
Lets see what they have:
1 x DisplayPort
1 x HDMI
1 x eSATA 3Gb/s
1 x LAN (RJ45) port(s)
4 x USB 3.0
4 x USB 2.0
1 x Optical S/PDIF out
1 x Optical S/PDIF in
5 x Audio jack(s)
1 x Clear CMOS button(s)
1 x ROG Connect On/ Off switch(es)
The sata ports consists of :
2 x SATA 6Gb/s port(s), red (Powered by Intel Z77 chip-set)
2 x SATA 3Gb/s port(s), black (Powered by Intel Z77 chip-set)
4 x SATA 6Gb/s port(s), red (Powered by Asmedia)
CPU socket area: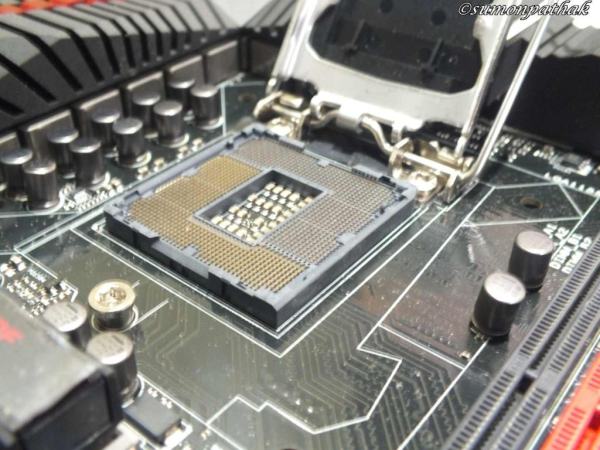 Expansions:
Expansion slots are plenty for a board at this price range:
3 x PCIe 3.0/2.0 x16 (x16 or dual x8 or x8/x4/x4)
1 x PCIe 2.0 x4
3 x PCIe 2.0 x1
1 x mini-PCIe 2.0 x1