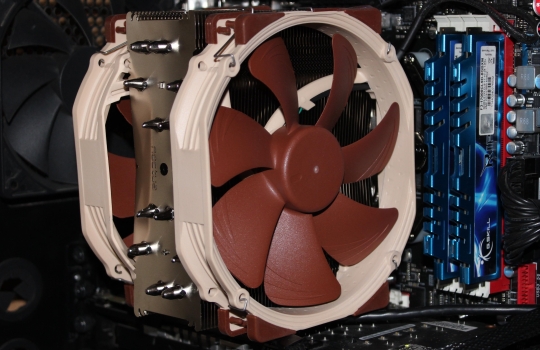 Introduction
Hey Folks , this time we will be reviewing Noctua's 2 Mid-Range CPU coolers viz. NH-U12S and NH-U14S. These days the trend on forums is such that , if there is no mention of Nocuta in serious discussions relating to CPU Coolers than its considered incomplete; Hmm. Noctua Products are now synonymous with Quality Stuff. Customer Service wise Noctua has been in the lead and with 6 years warranty you could ask for nothing more! NH-U12S is a slimmer version of NH-U14S. This means that, with NH-U12S the real estate surrounding your RAM slots won't be Hijacked! For NH-U14S that won't be a problem for LGA2011. With more bulky Air Coolers swapping RAM sticks has been a real big pain in the ass.
NH-U14S features a 6×2 heat-pipe design and U12S features a 5×2 heat-pipe design. Obviously U14S has more Surface area for dissipating heat and 2 additional heat-pipes as compared to U12S. So how much difference is that gonna make, thermal performance wise? Well, we'll see that shortly. The design of the aluminum fins for both is similar. Its much like a symmetric butterfly design elongated along the horizontal axis when viewed from top. I kinda like this design. The base and the heat pipes, as usual, are copper with soldered joints and have Nickle plated coating.
Fans in Air Coolers are one of the most important part which regulates the air flow through the fins and directly affects the performance of the coolers. The goods news is that NH-U12S comes bundled with 120mm NF-F12 PWM Fan which is one of the quietest CPU cooler Fan around , while NH-U14S comes bundled with 140mm NF-A15 PWM Fan which has performance similar to NF-F12. These fans have very low noise levels and also feature a Low Noise Adapter which reduces speed from 1500 rpm to 1200 rpm to further reduce the noise. And yes , not to mention that these fans support PWM by which the FAN speed can be controlled. Frankly, NF-F12 is one of my favorite CPU Fan. Noctua also bundles extra fan clips and an extra set of custom-designed anti-vibration pads if you want to add a second NF-F12(U12S) or NF-A15(U14S) for creating a push/pull setup. We will see, in our results, if push/pull setup configuration offers any significant advantage over single fan setup for both the coolers.
Compatibility wise both these coolers are good. The SecuFirm2 mounting system used for these coolers offers a, sort-of, broad spectrum compatibility for both Intel(except LGA775/1336) and AMD sockets. These coolers are compatible down to LGA775 and LGA1366 socket with 'optional' NM-I3 mounting kit which can be obtained from Noctua for free if you can provide them the proof of purchase , which as far as I recall is needed for both CPU Cooler and Motherboard. For future compatibility Noctua says (on their website) :
"If technically possible, Noctua will also provide upgrade kits for future sockets."
Well, fingers crossed!
Finally these coolers come with NT-H1 Thermal Compound which is Noctua's very own 'professional grade TIM solution'. Equipped with high performance Fans and Thermal Compound – How will these coolers perform as compared to V8GTS , NH-D14 ? We'll check that out in our results.