Test Setup and Benchmark Results
Test Setup:
| | |
| --- | --- |
| CPU | AMD FX-8150 |
| Motherboard | ASUS Crosshair V Formula Z |
| RAM | Gskill RipjawsX 2133MHz CL9-11-10-28 2T(XMP) |
| GPU | ASUS Geforce GTX 560Ti DC2 |
| Storage | OCZ Vertex 2 SATA 3Gb/s 60GB SSD |
| PSU | Corsair AX1200 |
| Cabinet | Corsair 600T |
| Cooling | Noctua NH-U14S & NH-U12S |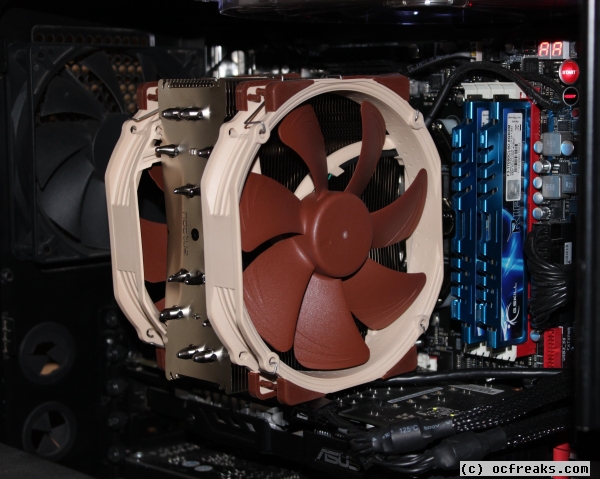 Benchmark Results:
We benchmarked both the coolers in Single Fan and Dual Fan(Push/Pull) Configuration. As with our previous CPU Cooler reviews we always wanted to test these coolers on FX-8150 since we wanted to find out their performance under Higher Thermal load Conditions. We tested them 3 times on our FX-8150 system with 3 different Clocks speeds with corresponding Voltages as shown in the table (and graph) below.
| | |
| --- | --- |
| Profile # | Setting |
| Profile 1 | 4.2GHz @ 1.25V |
| Profile 2 | 4.5GHz @ 1.3375V |
| Profile 3 | 4.7GHz @ 1.368V |
During the whole benchmarking process an ambient temperature of 22 degrees'C was maintained. For stressing the CPU we used OCCT lin pack with AVX and ran each of the tests for 30 minutes. And yes all the tests were performed with side panel closed (Corsair 600T).
Note : Zeros(0) in results graph below represent thermal throttling in effect.
When we first benchmarked these coolers and saw the results, frankly, we were a bit surprised since we expected them to perform better than what we got. With 4.5 Ghz and above, CPU thermal throttling would kick in and we couldn't benchmark these coolers at 4.5Ghz and 4.7Ghz on FX-8150. Initially we thought that we might have done something wrong when installing the cooler hence we removed the cooler, removed the left over TIM and then reinstalled the cooler with utmost precaution and ran the tests again. Even this time we got almost results. Still not satisfied we repeated the same procedure next day and ran the test. The results were same. Well , these coolers seem to perform very good on newer Intel CPUs (as seen on many leading review sites) which present lower thermal loads as compared to FX-8150. On the other hand you cannot expect slim tower air coolers like NH-U12S to perform exceptionally well on something like FX8150 which really heats up a lot when stressed. For such CPUs you are bound to use a beefy Air cooler or a Water Cooler.