A short introduction to Kepler
Kepler is the newest GPU architecture from Nvidia and packs some nifty features. It's vastly different from the last generation of chips from Nvidia in many ways. The foremost thing that's comes into light is that Nvidia made is a tradeoff between clock speed and core counts that all CPU and GPU makers are wrestling with every day. Power consumption rises with the clock speed, so reducing the frequency can lower the power consumption. And the second big change is a shrink in the die from 40nm to 28nm so we can expect lower power consumption and temps. There are two different Kepler GPUs in development. The Kepler1 chip, also known as GK104, is aimed at Enthusiast graphics cards and Tesla GPU coprocessors, where single-precision floating point math is most important. Nvidia has not said much about the Kepler2 GPUs – also known as GK110 internally – except that they will be tuned for double-precision floating point math and will support more GDDR5 memory, will have different packaging aimed at servers, and will cost more money than Tesla cards based on the Kepler1 units. And we may see some Gaming cards based on that card(rumors of course).
Now back to the Kepler architecture here is a die shot and a block diagram of the die for the interested persons :

Nvidia Kepler Die shot:
Nvidia Kepler block diagram
Now if we go back in time…and take a look at Fermi architecture we will see that The Fermi GPU had 512 cores, and grouped 32 cores into something called a streaming multiprocessor, or SM. The SM had 64KB of L1 cache and a 768KB L2 cache shared across the multiple SMs. The Fermis were the first GPUs that had cache memory,making the SMs look a lot more like standard CPUs in terms of their memory hierarchy. A Fermi GPU had 16 of these SMs and either 3GB or 6GB of GDDR5 memory that they all shared.The initial Fermis only shipped with 448 cores activated in the top-end models, but as yields improved at Taiwan Semiconductor Manufacturing Corp on its 40 nanometer process, Nvidia was able to ship chips with all 512 cores running.The Fermis burned between 225 watts and 250 watts in a discrete graphics card and Tesla coprocessor cards; they originally ran at 1.15GHz with the 448 core version and were boosted to 1.3GHz with the 512 core variant. Now with the Kepler architecture Nvidia moved into something called SMX(streaming multiprocessor extreme architecture) :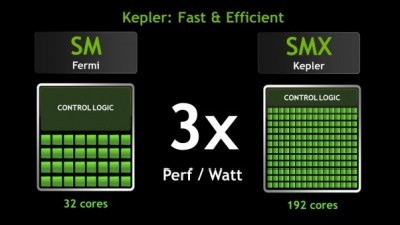 SM vs SMX Architecture Nvidia is putting 192 cores into a streaming multiprocessor group with slightly modified CUDA cores. Eight of these SMX units are on a single GPU chip for a total of 1,536 cores.(normally). So basically we have a 3X power performance ratio increase on paper. Here's some prediction slides made by Nvidia: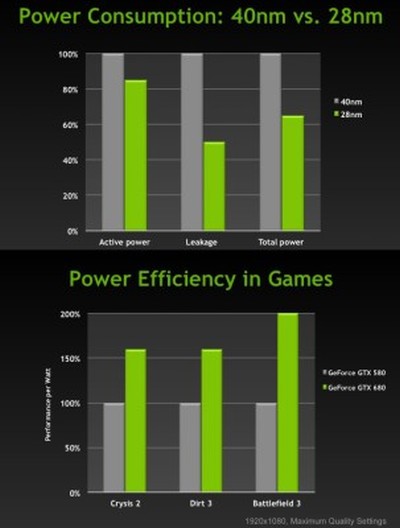 So there goes some of features of the new architecture.Lets focus on the card itself..shall we?