More Results
Next up the game benchmarks..
Crysis 1 and 2
Crysis is a FPS series developed by German developer Crytek and published by Electronic Arts. The series revolves around a group of military protagonists with "nanosuits," technologically advanced suits of armor that allow them to gain enhanced physical strength, speed, defense, and cloaking abilities. The protagonists face off against hostile North Korean soldiers, heavily-armed mercenaries, and a race of technologically advanced aliens known as the Ceph, who arrived on Earth millions of years ago for unclear reasons, and have recently been awakened. the game uses "cryEngine" which very demanding on the GPU and had made itself an benchmark from the time of its release.
Setting:maximum playable setting with 4x AA.
Maps: Island for Crysis and Times Square for Crysis 2.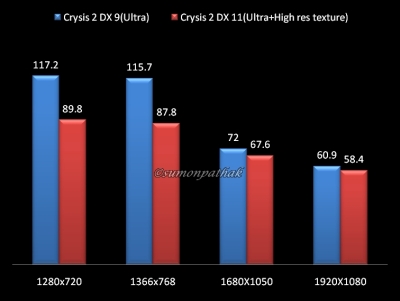 DiRT 3
DiRT 3 is a rallying video game and the third in the Dirt series of the Colin McRae Rally series, developed and published by Codemasters based on the EGO 2.0 engine.The Ego engine was developed to render more detailed damage and physics as well as render large-scale environments.
Setting: maximum playable setting with 4X AA.
Map: Aspen
Metro 2033
Metro 2033 is a first-person shooter video game with survival horror elements, based on the novel Metro 2033 by Russian author Dmitry Glukhovsky. It was developed by 4A Games in Ukraine and released in March 2010. The game is played from the perspective of Artyom, the player-character. The story takes place in post-apocalyptic Moscow. The game uses 4A Engine which supports Direct3D APIs 9, 10, and 11, along with NVidia's PhysX and also NVidia's 3D Vision.
Setting: maximum playable setting with 4X MSAA.
Map: Frontline (in game benchmark)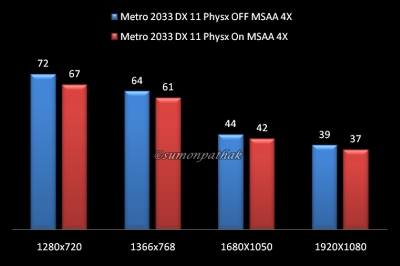 Sniper Elite V2
Sniper Elite V2 is a 2012 tactical shooter video game developed by Rebellion Developments.It's a remake of Rebellion's 2005 game Sniper Elite. The game takes place in the same timeframe and location—the Battle of Berlin in April–May 1945. The game uses the ASURA engine
For benchmarking we used the benchmarking demo released by rebellion.
Setting:All maxed out.
Map:Kaiser-Friedrich Museum(part of it)
The reason for the detailed graph is that i wanted to show the effect of "Super Sampling" on present generation cards.As its evident that even a card like GTX 660ti will bow down to the effect of Super Sampling.
Next up is a mix of 3 games and demo's:

Stalker:Call of Pripyat
PLA game benchmark based on Unreal 3 Engine
Battlefield 3
S.T.A.L.K.E.R.: Call of Pripyat is an open world first-person shooter video game based on the X-Ray Engine.The X-Ray Engine is a game engine, supporting DirectX 8.1/9.0c/10/10.1/11 and Shader Model 5.0. Up to a million polygons can be on-screen at any one time. The engine features HDR rendering, parallax and normal mapping, soft shadows, motion blur, widescreen support, weather effects and day/night cycles. As with other engines that utilize deferred shading, the X-Ray Engine does not support anti-aliasing and motion blur with enhanced dynamic lighting modes enabled. However, a "fake" form of anti-aliasing can be enabled with the static lighting option; this format utilizes a technique to blur the image to give the false impression of anti-aliasing.
PLA game benchmark is based on a game named Passion Leads Army using the Unreal 3 Engine. The third and current generation of the Unreal Engine (UE3) is designed for DirectX (versions 9-11 for Windows and Xbox 360), as well as systems using OpenGL, including the PlayStation 3, Mac OS X, iOS, Android, Stage 3D for Adobe Flash Player 11, PlayStation Vita and Wii U[10]. Its renderer supports many advanced techniques including HDRR, per-pixel lighting, and dynamic shadows.
Battlefield 3 is a first-person shooter video game developed by EA Digital Illusions CE and published by Electronic Arts. It is a direct sequel to 2005's Battlefield 2, and the twelfth installment in the Battlefield franchise. The game uses Frostbite 2 which is the next generation of Frostbite Engine. It takes full advantage of the DirectX 11 API and 64-bit processors,with no support for DirectX 9 so NO XP.It also features enhanced in-game destruction with Destruction 3.0[citation needed], creating more refined physics than its predecessor and quasi-realtime radiosity using Geomerics' Enlighten technology.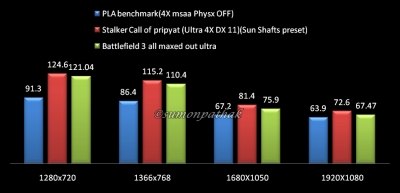 So that takes care of the benchmarks part.From a gamers point of view its a very good card and a strong response from the GREEN side to the RED league.