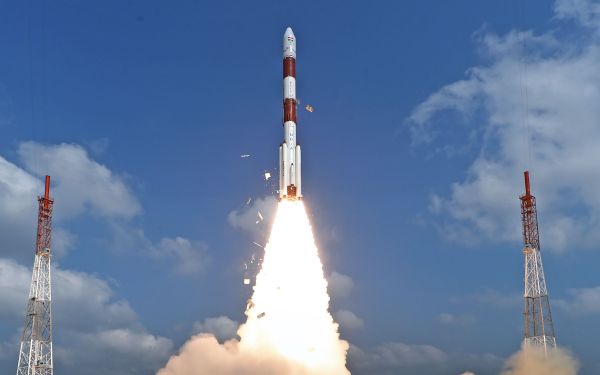 The Indian Space Research Organisation i.e. ISRO has created a history in space research by launching 104 satellites using its Polar Satellite Launch Vehicle (PSLV)-C37 (XL Variant). PSLV's 39th flight successfully lifted off at 9.28am 15th Feb 2017 from Satish Dhawan Space Center in Sriharikota. The total weight of all the 104 satellites was 1378 kg.
Check out the official PSLV-C37 Lift off and On-board Camera Video below:
This record was previously held by Russian Space Agency which launched 37 satellites in June 2014. Earlier in the same year America's Orbital Sciences Corporation had launched 34 satellites in a single mission. In June 2016 ISRO had lauched 20 satellites in a single flight with its PSLV-C34.
The launched satellites include 714kg Cartosat-2 Series Satellite (which will be used for remote sensing) along with 103 co-passenger satellites. The pool of 103 co-passenger Sats on the PSLV-C37 has:
1) ISRO Nano Satellite-1 (INS-1) & INS-2 are from India which are technology demonstration satellites.
2) 96 satellites from USA.
3) One satellites each from The Netherlands, Switzerland, Israel, Kazakhstan and UAE.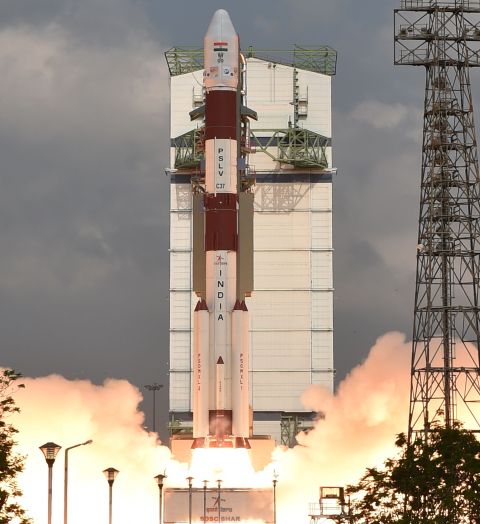 In 16 minutes 48 seconds the satellites achieved a polar Sun Synchronous Orbit of 506 km inclined at an angle of 97.46 degree to the equator and in the next 12 minutes, all the 104 satellites were successfully separated from the PSLV fourth stage in a predetermined sequence beginning with Cartosat-2 series satellite, followed by INS-1 and INS-2. In its offical post isro said:
After separation, the two solar arrays of Cartosat-2 series satellite were deployed automatically and ISRO's Telemetry, Tracking and Command Network (ISTRAC) at Bangalore took over the control of the satellite. In the coming days, the satellite will be brought to its final operational configuration following which it will begin to provide remote sensing services using its panchromatic (black and white) and multispectral (colour) cameras.
Mayilsamy Annadurai (Director, Isro Satellite Centre) said:
We can also hit centuries like our cricketers. In another two months, the number of satellites built by Isro will reach 100. Besides GSLV missions, we have get Chandrayan – 2 ready for launch next year.
You can watch the complete lanuch video below:
Sources: ISRO , TOI Image Source: ISRO