Introduction:
Hello again guys! Today we will be looking at Cooler Master V8 GTS CPU air cooler. This is a compact triple tower cpu cooler with 2X140mm fans in the middle. It has a look of transformer robot face and has red LED lights. It looks very good and is one of the best coolers that will show off the rig if it has a windowed side panel. It has 8 heat pipes and uses a horizontal vapor chamber technology.
A Quick Look at Features: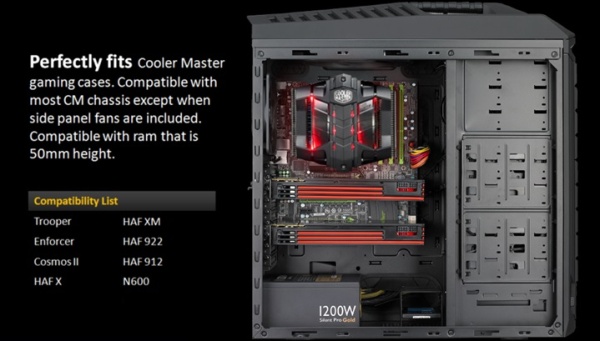 Specifications:
Model
RR-V8VC-16PR-R1
CPU Socket
Intel® LGA 2011/1366/1156/1155/1150/775
AMD FM2/FM1/AM3+/AM3 /AM2
Dimensions
154 x 149.8 x 166.5mm (6.1 x 5.9 x 6.6 in)
Heat Sink Dimensions
154 x 140 x 153.5mm (6.1 x 5.5 x 6.0 in)
Heat Sink Material
Vapor Chamber / 8 Heat Pipes / Aluminum Fins
Heat Sink Weight
854g (1.9lb)
Heat Pipe Dimensions
Ø6mm
Fan Dimensions
Ø 140 x 20 mm (5.5 x 0.8 inch)
Fan Speed
600 – 1,600 RPM (PWM) ± 10%
Fan Air Flow
28 – 82 CFM ± 10%
Fan Air Pressure
0. 3 – 1.45 mmH2O ± 10%
Fan Life Expectancy
160,000 hrs
Noise Level
16~36 dBA
Bearing Type
POM bearing – Cooler Master 4th Gen. Bearing (*POM = Polyoxymethylene)
Connector
4-Pin
Rated Voltage
12 VDC
Rated Current
0.31A
Power Consumption
3.72W
Fan Weight
110g (0.24 lb) x 2
Product Showcase
Box:
Box contents:
Top view:
Angled view:
Front view:
Side view:
Nickel plated copper base plate & heat pipes:
Inside the cabinet:
In the dark:
Test Setup, Performance & Acoustics
Test Setup:
| | |
| --- | --- |
| CPU | AMD FX-8150 |
| Motherboard | ASUS Crosshair V Formula Z |
| RAM | Gskill RipjawsX 2133MHz CL9-11-10-28 2T(XMP) |
| GPU | XFX Radeon HD 5970 |
| Storage | OCZ Vertex 2 SATA 3Gb/s 60GB SSD |
| PSU | Corsair AX1200 |
| Cabinet | CM Storm Trooper |
| Cooling | Cooler Master V8GTS Vs Noctua NH-D14 |
The FX-8150 was tested 4 times with different clock speeds at different voltages with all of the cpu coolers at ambient temperature of 22C. For putting load on cpu I used OCCT lin pack with AVX and ran each test for 30 minutes. All the testing was done with the side panel closed.
FX-8150 4.2GHz @ 1.25V, 4.5GHz @ 1.3375V, 4.7GHz @ 1.368V, 4.7GHz @ 1.38V.
Cooler Master V8GTS
Noctua NH-D14
Performance: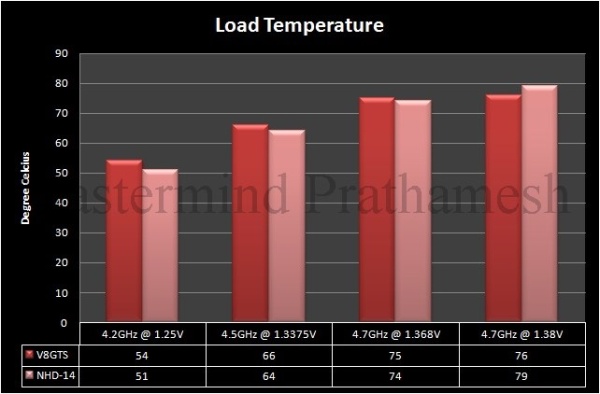 The horizontal vapor chamber and the 8 heat pipes does the job well. V8 GTS was pulling the temps down at a consistent rate whereas the temps on NH-D14 were pulled down slowly as the overclocks were increasing. By saying rate of pull down temps I mean to say the time cooler takes to come back to the idle temps from load temps.
V8GTS clearly beats NH-D14 by 3C on 4.7GHz @ 1.38V test i.e at higher thermal loads.
Acoustics:
Cooler Master V8 GTS is very loud as compared to its rival Nocuta NH-D14. CM V8 GTS is barely audible in noisy environment. Gamers who spend most of their time using their headphone won't worry much about the cooler not being silent. Tried to take advantage of fans being PWMs but sadly as the fan speeds were turned down the performance went down drastically and was not worth. Also I would have been happy to check the power of the heatsink but neither I have any 140mm fans nor any mounting mechanism for that.
Conclusion & Final Verdict
No doubt the V8 GTS looks good and it is good for show off. It performs very well specially at higher workloads. But the price could have been less.
Pros:
Great looks
Good build quality
Performs very good at higher thermal loads
Cons:
Final Verdict: I would give this CPU cooler a rating of 8.5/10 considering all the aspects. One of the best looking and performing high end air coolers on the market!
Video Review:
Here's the video version of this review –