Introduction
Hello guys! Today we will be looking at Cooler Master's CM Storm QuickFire TK mechanical gaming keyboard. It is a compact and well built keyboard which should satisfy the needs of most of the gamers out there. It includes cool features like n key roll over, led backlight with 5 brightness levels and 3 different modes, the best cherry mx keys, removable key caps for ease of cleaning and a key puller tool included with the package and much more.
Features:
Choose from 3 distinct versions:
Cherry MX Switch : Red , Blue , Brown
Backlight Color : Red , Blue , White
Steelplate Coating : Red , Blue , Brown
| | | |
| --- | --- | --- |
| Cherry MX Red | Cherry MX Blue | Cherry MX Brown |
| | | |
N-Key Rollover over USB:
N-Key Roll Over in USB mode means even the wildest key combos are registered perfectly.

Easy Cable Management:
Detachable braided USB cable and cable routing groves at the underside of the keyboard. Easy cable management and better flexibility.

Full LED backlight, 3 modes and 5 brightness levels:
Stylish and provides optimum visibility even in dark rooms. Different backlight modes highlight different key groups.

Compact layout with integrated Num pad block: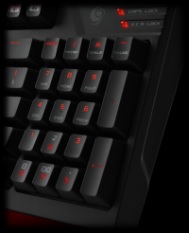 The QuickFire TK's unique NumPad block design merges both navigation and command keys. You get a compact gaming keyboard with a NumPad block.
Specifications:
Model Number
SGK-4020-GKCR1(Red switch)
SGK-4020-GKCM1(Brown switch)
SGK-4020-GKCL1(Blue switch)
SGK-4020-GKCR2(white case, red switch)
SGK-4020-GKCM2(white case, brown switch)
Key Switch
Cherry MX Blue/ Brown/ Red
Keycaps
ABS, grip coated, removable
Keycap Puller
Yes, ring-puller
Backlight
All keys backlit, 5 Levels, 3 Modes(Breathing, WASD or full backlight);
Black case: Red switch key has red backlight, Blue switch key has blue backlight and Brown switch has white backlight
White case: both has white backlight
Key Rollover
NKRO (windows only)
Polling Rate
1000 Hz /1 ms
Interface
USB 2.0 full speed
USB cable
1.8m, braided, gold plated, removable
Dimensions
377.5(L)*138(W)*33(H)mm
14.9(L)*5.4(W)*1.3(H)inch
Weight
544 g/1.2 lbs
Product Showcase
Box:
Keyboard along with accessories included inside the box:
Cherry MX Red Keys:
Backside of keyboard:
Easy routing of the removable cable:
Clip to rise the keyboard up which makes the keyboard ergonomic:
Click from an angle:
CM Storm logo:
Time for show off in dark:
Mode in which all backlights are on:
WASD cluster/Gaming mode:
Testing NKRO
To enable NKRO press N+ESC Keys simultaneously.
To enable 6KRO press 6+ESC Keys simultaneously.

While gaming, the NKRO worked very well. For e.g. W(moving forward)+CTRL(Crouch)+R(Reload weapon)+Spacebar(Jump). Also while going to the BIOS when NKRO enabled, there were no issues. The 6KRO was actually provided for the systems where there are issues while going to the BIOS when NKRO enabled.
Conclusion
Pros:
Solid build quality.
NKRO works very well.
Compact size makes it portable and saves space.
Easy to clean because of removable key caps.
Cons:
No macro keys.
A bit expensive.
Could have provided a wrist rest(removable).
Final Verdict : I would give this keyboard a rating of 9/10 considering all the aspects. Heavily Recommended! One of the best mechanical gaming keyboards on the market!
Video Review:
Here's the video version of this review –