Introduction
Hello again guys! Today we will be looking at Cooler Master's CM Storm Trooper gaming oriented cabinet. It is a solid full tower cabinet with a built-in fan controller. This cabinet looks great and has a ton of features in it which will be discussed later. But by looks this cabinet seems like a dream cabinet for a gamer.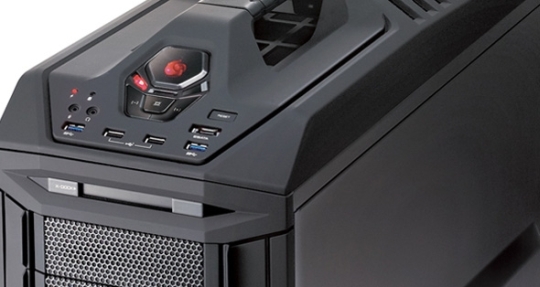 Features:
The first full tower chassis with two 90 degree rotatable 4-in-3 HDD modules
The first with an easy-to-carry handle, and hidden tool box for storing private goods
Removable dust filters on bottom and top intakes
A built in fan controller for cool and quiet operation
Supports up to 12 hard-drives for future upgrades
Convenient external 2.5" HDD/SSD X-dock
Supports high-end hardware, XL-ATX Mainboards and Quad SLI/CF with dual slot VGAs
Specifications
Lets go through the specs first :

Model Number
SGC-5000-KKN1
Available Color
All Black
Material
Steel body, Front Mesh / Plastic bezel
Dimensions
(W) 250 x (H) 605.6 x (D) 578.5 mm
(W) 9.8 x (H) 23.8 x (D) 22.8 inch
Net Weight
13.7 kg / 30.2 lbs
M/B Type
Micro-ATX, ATX, XL-ATX
5.25″ Drive Bay
9
3.5" Drive Bay
8 (converted from 5.25" bay by two 4-in 3 HDD modules)
2.5" Drive Bay
13 (converted from 5.25" bay by two 4-in 3 HDD modules)
Cooling System
Front: 120 mm LED fan x2 (1200 RPM, 17dBA)
Top: 200 mm fan x 1 (1000 RPM, 23 dBA)
Rear: 140 mm fan x1 (1200 RPM, 19 dBA)
(converted to 120 mm fan)
Bottom: 120 mm fan x 2 (optional)
Side: 120 mm fan x 2 (optional)
Expansion Slots
9+1
Power Supply Type
Standard ATX PS2 / EPS 12V
I/O Panel
USB 3.0 x 2 (internal), USB 2.0 x 2, e-SATA x 1, Audio In and Out ( Supports HD audio)
Maximum Compatibility
CPU cooler height: 186 mm / 7.3 in
GPU card length: 322 mm / 12.7 in
Product Showcase:
The CM Storm Trooper in all its glory.
Front:


The CM Storm Trooper has a honeycomb structure i.e each and every removable optical bays have mesh on it for maximum air to get in as an intake or u can set it as an exhaust as well. The CM Storm logo with the caption looks amazing at the bottom side. You can even put an SSD in the X-DOCK and all you have to do is connect the molex power to it from inside of the case and hook a sata cable running it to your motherboard sata port.
When the rig is running the top CM Storm logo on the power on button looks awesome. The 120mm led fans on the front intake looks great. These fans do a great job in terms of airflow. They blow air to the graphics cards. You could even put one more fan as front intake above these two unless you are using any optical bay of the top three.
Back:


It is pretty much the same like the other cases. We have a 140mm fan at the back as an exhaust. You could even put a 120mm fan coz they have provided holes to do so. There are 9 pci-e expansion slots. On the right hand side of expansion slots you could see the Storm guard which secures your peripherals inside the case like GPUs. The PSU is obviously bottom mounted. The holes with rubber grommets are there for routing your tubing if you have your water cooling radiator outside the case.

Top:
Mostly the top of this case looks like a car. The right hand side has the inclined front panel. The middle section is actually a metal handle which is attached to the metal main chassis and is coated with rubber which don't hurt your hand while carrying the case. There is a TROOPER caption to its left which looks cool. Other area to the sides of TROOPER caption is kept open to let maximum air to pass. Not again coming to the left hand side there is a mesh area.
Left:
The left had side of the case has a removable side panel having big mesh area where you could even put 2X120mm fans to blow fresh air inside the case onto the GPUs.
Right:
The right hand side of the case has a removable side panel having mesh area on the left hand side so as to let the air pass through the hard drive cages over the hard drives itself if you have set the fan orientation sideways.

Cabinet interiors:
The hollow part in the mid section helps to install most of the coolers' custom back plate on the motherboard without actually taking out the motherboard. The rubber grommets help in cable routing. To the right hand side we have the hard drive cages.
We have a 140mm fan as a rear exhaust. PSU mount at the bottom. Storm Guard for securing the peripherals and 9 pci-e expansion slots.
At the top we have the molex connection and sata connection ports for the X-DOCK where we can put an SSD. The hard drive cages are removable just in case you want a 360mm radiator for water cooling in there. You could also see a small SSD cage at the bottom.
From this angle you could see the cable management features like the rubber grommets, zip tie clips where you could tie a bunch of cables.

Front removable bays:
All of the front optical bays are removable. You could see 2X120mm fans set for intake. You could also remove the top optical bays and chuck in a pump-reservoir combo dual bay for water cooling or you could add an extra fan in there.
Top dust filter:
As you could see there is a dust filter at the top on the 200mm fan which is set as an exhaust.
Removable hidden box:
The front CM Storm logo plate on the front does come out. Behind the CM Storm logo on the front bottom side there is a box where you could keep things which you need like some cable ties, screws etc. It can be completely removed if you don't want it in there.
Front panel & fan controller connections:
Let us start from the left. E-SATA, USB .0, HD Audio/AC'97, USB 2.0 headers.
The front panel headers power, reset switch, HDD LED.
These are the 3-pin dc power input for the dc fans which are connected to the fan controller at the top.
The molex connector is the provide power to the fan controller. The other 3 actually supplies the power to the fan LEDs which could be turned on or off as required by the button at the top of the case in the front panel section.
Components inside the case:


The Corsair AX-1200 is the PSU which is in there. The CPU cooler is the Cooler Master V8 GTS. The motherboard used is the ASUS Crosshair V Formula Z running an AMD FX-8150 processor. The GPU is the XFX Radeon HD 5970 which is very long as compared to this generation single core GPUs. So this case can fit really long GPUs.
Cable management:
I am not that good at cable management but tried to do something which is not so bad. the cable management in this case is awesome. You could pretty much route the cable wherever you want as per your wish.

Angled view:
Overall this case looks really very nice and is really build for the gamers.

CM Storm logo with beautiful LED fan:
The LED fans look great and does a good job on cooling as well.

Fan controller section:
Right at the top is the power on switch. Below that we have the – & + keys to decrease the fan speeds. The middle button is to turn the LEDs on or off. Other than that we have reset switch, E-SATA, a pair of USB 3.0 & USB 2.0, headphone and microphone jack with power and HDD LEDs.
In the dark the CM Storm Logo and the surrounding LED lighting is awesome. It gives the feel of a gaming rig.
Wanna drive this baby ? Go for it I say !
Conclusion
A complete package in terms of build quality, air flow, flexibility, water cooling options, cable management and compatibility with respect to graphics card length, motherboards of various form factors upto XL-ATX and dimensions of CPU coolers. This cabinet comes in an different edition CM Storm Trooper Window which has a window on the side panel to show off their rig. I have tested my Noctua NH-D14 and Cooler Master V8 GTS which gave better thermal results than that off Corsair 600T. This means that the airflow within the cabinet is very good.
Pros:
Solid build quality
Very good airflow
Affordable with ton of features and flexible
Good for custom water-cooling
Cons:
Instead of thumb screws could have provided clip arrangement for opening and closing the side panel.
Final Verdict: On behalf of Team OCFreaks! , I would give this cabinet a rating of 9.5/10 considering all the aspects. Heavily Recommended! One of the best and affordable gaming cabinets on the market!
Video Review:
Here's the video version of this review :