Graphics and Audio
Graphics
The moment you land in Columbia you will realize that the game is beautiful, detailed, colorful and the lighting system is phenomenal. Irrational has used enhanced graphic options to give this game a different look and despite some low textured objects the overall graphics is vibrant and you feel the urge to look at everything before moving on. Starting out as a 'Heavenly' peaceful city, Columbia transforms into a bloody battlefield which is dark, gory and astonishing.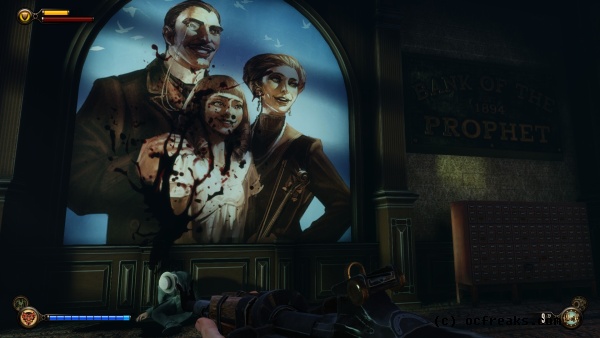 This is by far one of the most atmospheric games we have had in years, and it matches perfectly with the story events at those points of the game. In fact, Bioshock Infinite feels like a fairytale, a colorful fairytale that easily turns into a dark nightmare.
Audio
The Voice Actors of the leading pair have done an excellent job. The soundtrack is very early 20th century with Jazz and Blues being played across Columbia. The music changes according to the situation we are in, and picks up pace when a fight is about to break out while it's creepy in the final few hours of the game. There is a moment where Booker picks up a guitar and Elizabeth starts singing, the full version of it is shown in the ending credits, and it gives a different feel to the atmosphere of the game.