Gameplay
Being a First Person Shooter one hopes for this game to have a satisfying, challenging gameplay especially in combat and a multitude choice in weapons. Yet this is one area where Irrational could not keep up with the rest of the game. There aren't a lot of weapons to choose from and the option to have only TWO weapons at a time restricts what the player could do in fire fights. Adding to the fact that there are only one or two weapons lying around in some corner, you get frustrated when fighting bosses and mini-bosses. One of these boss fights is recursive, feels forced and dampens the overall experience.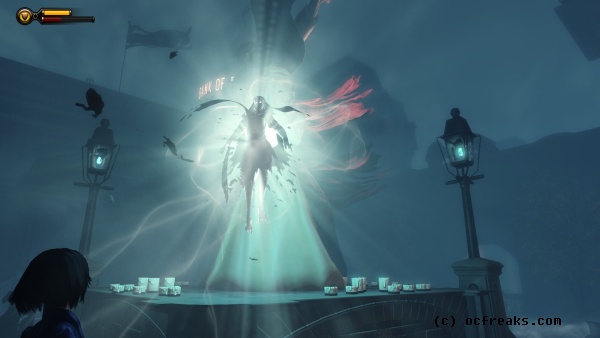 Regardless, the game picks up pace quickly after these 'dragged' fights and you are again immersed in the events that follow. Similar to 'Plasmids' from the earlier games we have 'Vigors' in Infinite, mass produced potions that enables you to use 8 different powers, which require salts. These are very effective, fun and can be used in combinations for devastating effects. But most of them don't work against tougher enemies and bosses and you will most likely use 2 or 3 for the entirety of your playthrough, it's also strange that only Booker uses them in the entire city when they are found lying almost everywhere.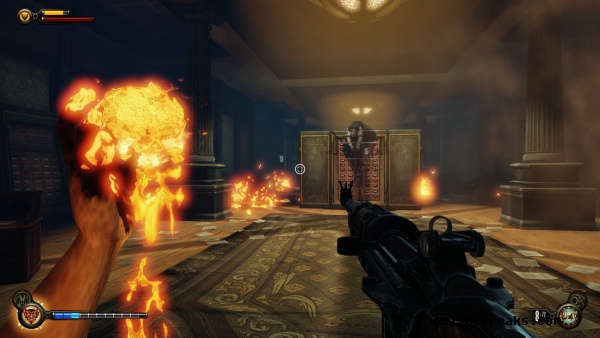 'Gears' are pieces of clothing that grant you special abilites such as boosting stats to your varied attacks, gaining health and salt from melee and you will be changing them often to suit your playstyle. You pick up a Sky-hook early on in the game and can use it to melee enemies and hop onto the Skyline, a network of massive, suspended mechanical rails that connect different parts of the city. Jumping onto a skyline gives you more options of taking out your enemies, and it's one of the unique and fun gameplay additions in Infinite. Skylines are crucial in some set pieces to travel or combat, especially in the last fight and you just can't get enough of them.
Elizabeth plays a significant role in combat thowing Ammo, Salts and Health when you are running low and does that every few minutes. She also throws coins at you when there are some lying around or occasionally when you use any vending machines. She can also bring in automated machines from Tears at fixed locations throughout Columbia. But Irrational could have done a lot more with it, as seen in the earlier demos. They changed the gameplay quite a lot since it was announced and demoed back in 2010, to the disappointment of a lot of fans. Elizabeth's powers had a huge impact on the gameplay and she could do more with Tears and those actions had repercusions on her mind and body. The gameplay would have been a lot more exciting and fun if those mechanics were present in the finished product.