Quite often you might have come across a pair of earphones that is incompatible with your device. But why is this so, even when the plug fits perfectly in the socket? Buying new earphones is a ritual that most of us have to go through once in a few months or so. Choosing the right pair of buds is a hard enough affair as it is, and such problems simply add to our woes. With this guide, you'll come to know the reason for these incompatibilities, how you can choose the correct earphone when buying online and how you could (possibly) make incompatible earphones work on your device.
The 3.5mm Earphone Connector (aka Audio Jack)
Most modern phones come with 3.5 mm sockets, and earphones for these are available in plenty. But this is just half the story. The root of the incompatibility lies in the lack of proper standardisation in the 3.5mm connector.
There are two types of 3.5 mm connectors that could come with stereo earphones:
TRS(Tip-Ring-Sleeve) Connector:
Also known as Three Pin Connector or Three Conductor Connector. These are used when the earphones either don't come with an inline mic, or when the mic uses a connector separate from that of the Audio Out. PCs and mp3 players commonly use TRS sockets.
TRS Connector
For 3 pin TRS connectors in stereo earphones, the connections are pretty much standard: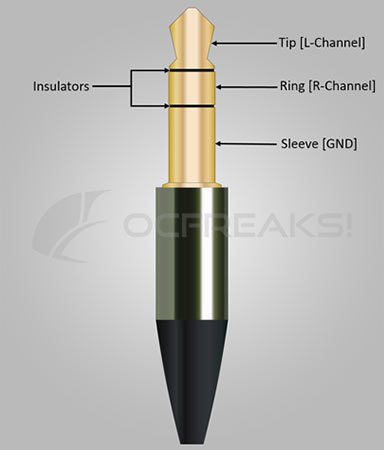 TRS Connections
TRRS(Tip-Ring-Ring-Sleeve) Connector:
Also known as Four Pin Connector or Four Conductor Connector. These are used when the Mic and Audio Out are provided in a single connector. Most phones use TRRS connectors as it is quite compact, since it eliminates the need of a separate connector for the Mic.
TRRS Connector
Now, in the case of 4 pin TRRS connectors, there are two differing standards by which connections could be made:
OMTP:
This was the original standard for TRRS connectors developed by Nokia. OMTP sockets could commonly be seen in old Nokia and Samsung Phones and Legacy Xperias.
TRRS OMTP Connections
CTIA:
This is at present, more commonly seen standard than OMTP. CTIA sockets are used in HTC, Samsung, Sony, LG and most other android phones, Lumia and iPhones (well, before 7. A few, ahem, "brilliant" engineers at Apple decided it'd be a great idea to drop the 3.5 mm audio socket and use their proprietary Lightning port as the audio connector. But that's a completely different story and I wont be rambling much about that here).
TRRS CTIA Connections
OMTP Earphones on a CTIA Socket / CTIA Earphones on an OMTP Socket :
Due to the difference in position of the Ground and Mic contacts, OMTP earphones wont work in CTIA sockets, and vice versa. Now, heres the icing on the cake: Most manufacturers dont specify the standard used in their earphones. Well, isn't that just great?!?!
One way you could check if a particular earphone is compatible with your device is is by checking the compatibility list. For example; If the Earphone manufacturer says "for iPhones", then it uses CTIA standard. If the earphones are made for Samsung devices, then again it uses CTIA standard. If the earphones are for Legacy Xperia devices or old Nokia Phones, then it uses OMTP standard.
If you have already purchased earphones that are incompatible with your device, what can I say ? Sucks to be you.
Just Kidding ;-). One way you could possibly make it work is by purchasing an adapter.
OMTP to CTIA/CTIA to OMTP Adapter
Such an adapter can convert an OMTP earphone to CTIA as well as a CTIA earphone to OMTP. These are a bit hard to find for cheap, but are well worth the price if it works.
TRRS Earphones on a TRS Socket / TRS Earphones on a TRRS Socket :
3 pin TRS Earphones should be compatible with devices using 4 pin TRRS sockets, as the Ground pin would be connected to the ground contact of the Socket anyways. The same goes for 4 pin TRRS Earphones on a 3 pin TRS socket.
TRS connector in TRRS socket
TRRS connector in TRS socket
However, if these dont work, or if you get a garbled audio, it would most likely be due to improper contact between the plug and socket conductors.
Improper Contact between TRRS Plug and TRS Socket
As can be seen the contacts in the socket will connect with the insulator when the plug is completely inserted in the socket. Another possibility is that the contact touches two of the pins. This is also the reason why the earphones appear to work when you slightly remove the plug.
To make these work, you could try using an adapter with a TRRS female and TRS male connector (4 pin to 3 pin adapter, for TRRS plug – TRS Socket incompatibility) or with a TRS female and TRRS male connector (3 pin to 4 pin adapter, for TRS plug – TRRS Socket incompatibility), depending on your requirements.