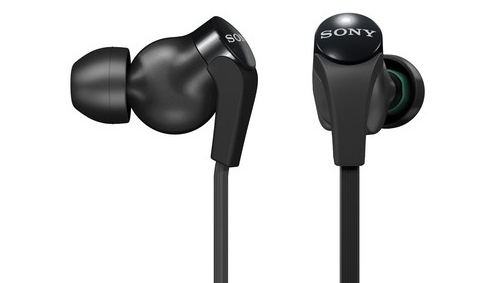 Introduction
Since past few years I have been using Creative EP630 and Skullcandy XL2 earbuds. I been suffering a curse when it comes to EP630 headphones. From late 2010 I have been buying EP630 roughly every 7-8 months. The reason was that after 7-8 months of use the right bud would be suddenly dead. I tried a few hacks on some of the damaged earbuds to restore it but .. it didn't for me .. damn 🙁 . Skullcandy XL2 survived for about 1 year and then got the 'loose contact problem'. I had more than enough and decided to go with other 'better' options.
And while researching I stumpled upon the Sony MDR-XB30EX Extra-Base Headphones (buds). After having a look at the specs and comments of other owners I finally decided to go with MDR-XB30EX. I got it for 1700 INR(discounted price) from flipkart.
Specfications:
| | |
| --- | --- |
| Frequency Response: | 4Hz to 24KHz |
| Impedance: | 16 Ohms |
| Sensitivity: | 105 dB/mW |
| Power Handling Capacity: | 100 mW |
| Drive Unit: | 13.5mm Dome Type |
| Diaphragm: | PET |
| Mangnet Type: | Neodymium |
Features:
The chord type is as usual Y-Shaped.
The connection jack features a 3.5mm Glod Plated L-shaped plug. In most cases the L-Shape is always a plus point!
Advanced Direct Vibe Structure.
The buds are made of Hybrid silicone.
It also has a "Tangle-Free serrated" Chord.

And yes .. this comes with a few accessories too 🙂
Accessories:
Carry Pouch
Chord Clip
3 Extra pairs of Buds of different sizes. So a total of 4 pairs in all
Now its time for some product showcase..
A clooser look at MDR-XB30EX
A Closer look at serrated chords: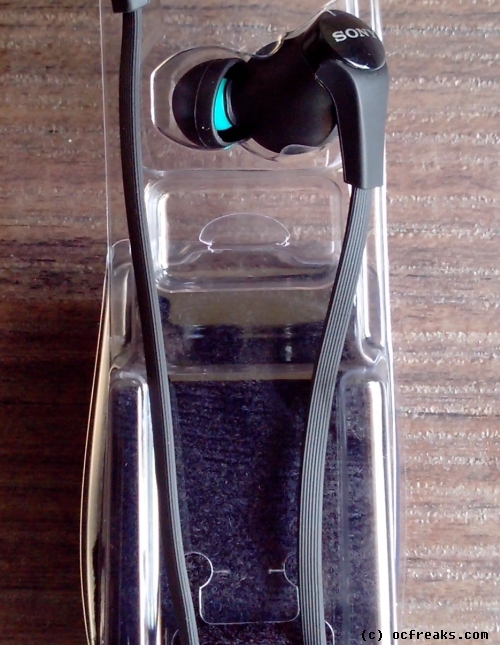 Ze Listening Experience and Handling
Lets talk about the listening experience first:
Sony advertises it as giving "Intense Bass" and "Ultra Clear mid-range sounds" which is what I bought this for in the first place. Well … , I'd say you better trust sony on that. I'm not a Sony fan boy and nor am I acting to be one and this is the first time I've bought a Sony Headpone/Buds. The base is actually clear and deeper than EP630 and Skullcandy XL2. You wont notice any sort of distortion(atleast I didn't) in bass when you pump your bass to max via your equalizer settings. The highs were also better than EP630 and specially XL2. Also as per the specs it has the best & widest frequency response of 4Hz to 24Khz as compared to others – but then I doubt if any human can hear frequencies below 10Hz unless he/she is a gifted ears with some supernatural powers 😛 and also since its a generally accepted fact that 'normal' human ears are tuned to frequencies from 20Hz to 20Khz. The depth and clarity in bass has also to do with the design of the driver units and internal structure. The noise cancellation is pretty good too.
Now .. lemme talk about 'the comfort' when listening with MDR-XB30EX:
The first thing you feel when you plugin the headphones into your ear is a bit of 'un-comfort'. Thanks to the big 13.5mm dome type driver units you get a bit of uneasy feeling when you first start using it 🙁 . Plugin into your ears for long time enough and it starts to give a pain(small though) where the driver touches your ears. For the first few days its really annoying. But as you get used to it the uncomfort and pain 'completely' vanishes. It actually fades away and.. I am not exaggerating here .. just saying what I experienced. And after that you'll probably fall in love with these earbuds 😛
Handling:
If your handling is bad like me xD then this wont give you any sorts of issues or problems. The serrated chord is extremely strong and much much better as compared to other headphones! Also these thick serrated chord make it almost tangle free! Also the L-Shaped 'small' plug is something I really liked – though it seems to be a bit fragile 😛 . The overall build quality is impressive .. and once again I'm not being a Sony fanboy here.
Conclusion
Pros:
1. Clean and Deep Base Indeed!
2. Good frequency response (as per specs)
3. Tangle-Free(almost) Serrated Chords
4. L-Shaped Gold Plated Plug
Cons:
1. Initially Uncomfortable for ears
2. Slightly Overpriced
Overall OCFreaks Rating : 8.5/10 \m/
OCF Recommended for "Bass Hunter" Freaks!