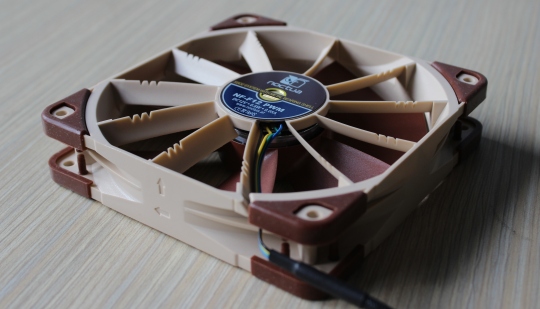 Introduction:
Today we will be looking at Noctua's Sound and Static Pressure optimized Focused Flow fans. Now Noctua has always been a very great company in making revolutionary heat sinks and fans with a superb built quality which lasts long. NF-F12 are static pressure optimized fans so they are better on heat sinks and radiators. These are PWM fans which means the fan speed could be controlled using the duty mode inside the BIOS of your motherboard.
Here is a snippets from the product page on Noctua's site:
Teaming up eleven stator guide vanes with a specially conceived seven blade impeller, the NF-F12's Focused Flow system creates outstanding static pressure and focuses the airflow for superior performance on heat sinks and radiators. At the same time, a wide range of advanced aerodynamic design measures, second generation SSO-Bearings and Noctua's new, custom designed PWM IC for fully automatic control guarantee astounding quietness of operation. The NF-F12 comes with modular cabling, integrated anti-vibration pads and two speed settings for full flexibility. Its commanding performance, exhaustive set of features and Noctua's trusted premium quality make it an elite choice for use on air coolers, radiators and other pressure demanding applications.
Specifications:
Size
120x120x25 mm
Connector
4-pin PWM
Bearing
SSO2
Blade Geometry
Heptaperf™
Frame Technology
Focused Flow™
Rotational Speed (+/- 10%)
1500 RPM
Rotational Speed with L.N.A. (+/- 10%)
1200 RPM
Min. Rotational Speed (PWM, +/-20%)
300 RPM
Airflow
93.4 m³/h
Airflow with L.N.A.
74.3 m³/h
Acoustical Noise
22.4 dB(A)
Acoustical Noise with L.N.A.
18.6 dB(A)
Static Pressure
2.61 mm H2O
Static Pressure with L.N.A.
1.83 mm H2O
Max. Input Power
0.6 W
Max. Input Current
0.05 A
Voltage
12 V
MTBF
>150,000 h
Scope of Delivery
Low-Noise Adapter (L.N.A.)
4-Pin Y-Cable
30cm Extension Cable
4 Vibration-Compensators
4 Fan Screws
Warranty
6 years
Product Showcase:
Noctua NF-F12 comes in a premium packaging as all other Noctua products. This is the front side of the box which shows the branding, name of the product and lists some of its main features.
The upper cover on the front side opens up like a flip and gives you a sneak peek at the fan from the back side and shows 3 anti-vibration rubbers. It also explain about the fan and its features in brief.
The back side of the box shows the specifications, warranty and description of fans in many languages.
On fliping the back side on we can see all the features and technologies in the fan.
Inside the box we get the fan itself with accessories inside a plastic packaging and a user manual.
Along with the fan pre attached with the anti-vibration pads on the edges, we get a Y-cable, a Low Noise Adapter which brings down the fan speed to 1200 RPM, an extension cable of 30cm and 4 anti-vibration rubber to attach the fan to case if you wish.
Noctua NF-F12 looks just like other fans except its focused flow frame which helps the air to be directed in one straight direction.
This is the back side of the fan.
Juts a look at the fan from an angle.
The PWM connector of the fan obviously with 4 pins.
A look at the focused flow frame which helps the air to go in one straight direction.
The 3 gaps you can see on the focused flow frame blade increases the turbulence of the air which means more air pressure.
A closer look at the anti-vibration pad on the edge of the fan.
The inner surface microstructures inside the main frame create a turbulent boundary layer when the fan blade pass over it.
The direction of the airflow indicated at the bottom of the fan.
The 4 wires of a PWM fan. Black – GND(Ground), Yellow – +12V(+12Volts DC), Green – TACH(Tachometer which monitors fan speed.), Blue – PWM(Pulse Width Modulation).
Test Setup, Performance, Power Consumption & Acoustics:
Test Setup:
| | |
| --- | --- |
| CPU | AMD FX-8150 |
| Motherboard | ASUS Crosshair V Formula Z |
| RAM | Gskill RipjawsX 2133MHz CL9-11-10-28 2T(XMP) |
| GPU | XFX Radeon HD 5970 |
| Storage | OCZ Vertex 2 SATA 3Gb/s 60GB SSD |
| PSU | Corsair AX1200 |
Cooling Custom Liquid Cooling (CPU Water Block: EK Supreme HF Full Nickel, Tubing: Primochill Primoflex LRT, Pump: Swiftech MCP655, Reservoir: Swiftech MC RES-Micro Rev 2, Radiator: EK XTX 360, Fans: Noctua NF-F12 VS Scythe GT AP-30 4250 RPM)
The FX-8150 was tested with different clock speeds at different voltages at ambient temperature of 22C.
The radiator used is a 360 RAD so 3 of both the fans were used.
For putting load on cpu I used OCCT lin pack with AVX and ran each test for 30 minutes.
FX-8150 4.2GHz @ 1.25V, 4.5GHz @ 1.3375V, 4.7GHz @ 1.368V
Custom Liquid Cooling with Noctua NF-F12 fans
Custom Liquid Cooling with Scythe GT AP-30 4250 RPM fans
Performance:
The performance on this fan is impressive with a good amount of static pressure. The focused flow frame really helps the fan to direct the air in straight direction which reduces the wastage of airflow unlike the conventional fans. Unfortunately I don't have any scientific equipment and conditions to measure the airflow or rather show the air moving in straight direction.
As you can see in the graphs there is a difference in the temperatures but the Scythe GT AP-30 spins at much more RPMs than NF-F12. NF-F12 spins at max RPM of 1500RPM whereas Scythe GT AP-30 spins at max RPM of 4250RPM. No doubt the Scythe GT AP-30 will outperform NF-F12 but at the cost of higher noise level and power consumption as well.
But Noctua NF-F12s are only useful when using it on lower or moderate fin density radiators say max of 20fpi and if used with higher fin density radiators then the radiators must be thin. Its simply because more the obstruction less the airflow at low fan speed.
Power Consumption:
Noctua NF-F12 consumes 0.6W whereas Scythe GT AP-30 consumes 6W at maximum speed. Hence power consumption on NF-F12 is very low.
Acoustics:
Noctua as we all know is very good at making silent fans. All the silent freaks out there will just love these fans. You practically don't hear any noise at all. The vibration compensators provided with the fans also help a lot in reducing the noise a bit. With a low noise adaptor the fans spin at 1200RPM and you won't hear anything since its noise level is less that 20dB anyway.
Conclusion & Final Verdict:
Conclusion:
Awesome fans from Noctua with optimized static pressure as well as low noise and power consumption. Even with low fans speed and low noise their performance is amazing.
Pros:
Outstanding performance at low noise and fan speed
Very good built quality
6 years warranty indicates a long life span
Very low power consumption
Cons:
Not so good for higher fin density radiators
Looks may be a concern for some people
Final Verdict: This product surely qualifies as 'Heavily Recommended Product!'. I would give this Fan a rating of 9.5/10 considering all the aspects. One of the quietest and high performance static pressure optimized fans on the market!