Many ARM Cortex-M series of MCUs from NXP from the LPC1000 family viz. LPC11xx, LPC13xx, etc. have I/O configuration registers for Port Pins called IOCON. In this tutorial we will discuss about the structure of these register and how to use them when programming in C/C++. The structure of IOCON might vary depending on the specific micro-controller.
Each pin on MCUs like LPC1114, LPC1115, LPC1343, LPC1347, etc.. have a dedicated IOCON register with which we can control:
the Function (for e.g. GPIO or any other Function like TXD,I2C,etc..)
the Input Mode i.e. pull-up, pull-down, repeater mode or none
Hysteresis which gives schmitt trigger action to filter out spurious changes on inputs
I2C bus modes for I2C bus pins
selection of analog input mode for ADC pins
selection of open-drain mode for output, if available
You can check the User-Manual or Datasheet of your LPC Cortex-M Micro-controller to check which of the above are available.
The naming convention of these IOCON registers is <default_function>_PIOx_y or PIOx_y. Where x is port number, y is pin number and "default_function" is the function that is selected by default after reset, for example: RESET_PIO0_0 , SWCLK_PIO0_10 , PIO0_7 , etc. Those which don't have <default_function> prefix, will be GPIOs by default after reset.
General Bit Description of IOCON registers for LPC1114 and LPC1343 is as given below: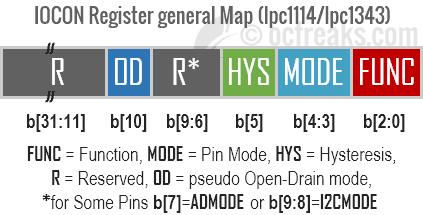 For pins hosting ADC function the IOCON structure is as follows:
For pins hosting I2C function IOCON bit Mapping is as given below:
Bits
Symbol
Significance of values
[2:0]
FUNC
Used to select pin Function.
0x0 – First function, 0x1 – Second function
0x2 – Third function, 0x3 – fourth function
[4:3]
MODE
For selecting pin Mode. Not applicable for pins having I2C functionality.
0x0 – Both pull-up/pull-down resistors disabled
0x1 – Pull-down resistor enabled
0x2 – Pull-up resistor enabled
0x3 – Repeater mode
[5]
HYS
0 – Disable Hysteresis, 1 – Enable Hysteresis
[9:6],
[9:8],
[7]
N/A,
I2CMODE,
ADMODE
For most registers bits 6 to 9 are reserved.
For I2C pins bits [9:8] respresents I2C mode and bits [7:3] are reserved.
For ADC pins bit 7 represents ADMODE while bits 6,8,9 are reserved.
Refer Datasheet for info about how to use them.
[10]
OD
For selecting pseudo open-drain mode.
0 – Standard GPIO Mode, 1 – Open-drain Mode
[31:11]
N/A
Reserved
Note: pseudo open-drain mode is Not available for LPC1343/42/13/12 devices.
IOCON register for other LPC13x7 devices
For devices like LPC1347 ICOCON register given additional control like:
Logic Inversion of input pins, if available
Input Glitch filter, on pins which support it, if available
The general register map for similar devices is as given below: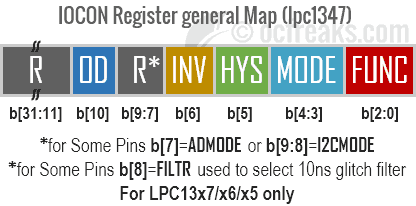 The different in structure is that:
Bit 6 now represents INV which is used to invert the Input(HIGH is read LOW and vice-versa) by setting this bit to 1. If the bit is 0 inputs are not inverted.
For a few pins Bit 8 represents FILTR which is used to enabled/disable glitch filter. 0 means glitch filter is enabled and 1 means its disabled.
Using IOCON registers in programming
In the device header files based on CMSIS viz. lpc11xx.h and lpc13xx.h all the IOCON registers are grouped under LPC_IOCON structure. While programming in C/C++ , these can be accessed as: LPC_IOCON->[register-name]. Where [register-name] is the name of the IOCON register for a specific PIN as given in datasheet/manual.
For example, to access IOCON for PIO0_1(P0.1) in your code you must use LPC_IOCON->PIO0_1 = value.
Eg.:

/*LPC11xx*/
LPC_IOCON->RESET_PIO0_0
LPC_IOCON->PIO0_8
LPC_IOCON->R_PIO0_11
...

/*LPC13xx*/
LPC_IOCON->PIO0_1
LPC_IOCON->SWDIOCLK_PIO0_10
LPC_IOCON->R_PIO1_10
...