Introduction
Previously we had a glimpse of this card, we did a simple unboxing of this particular sample. Like I said before, this card was provided to me by Asus, so a big thanks to them once again. GTX650Ti is one of the latest offerings from Nvidia,it is based on GK106 (Kepler) chip. This card is intended to fill the gap between GTX650 and GTX660. Unlike its elder brothers GTX650Ti lacks gpu boost (Nvidia has recently released a boost variant of GTX650Ti though). This card is a direct competitor to AMD's HD7770 and HD7790. GTX650Ti is mainly targeted for mainstream gamers,i.e the category where most gamers belong.
The card is manufactured under 28nm fabrication process and consists a total of 2.4 billion transistors. The card consists a total of 768 CUDA cores,64 texture mapping units and 16 ROP units. Reference GTX650Ti has a core speed of 925mhz and memory speed of 5400mhz where as this particular sample is factory overclocked at 1033mhz on the core and the memory is unchanged and kept at 5400mhz. The card is powered by only one 6pin pci-ex connector and has a TDP of 110w. Memory consists of 1GB GDDR5 on a 128bit memory bus.
Lets have a look at the specification below:

Model Name
GTX650TI-DC2T-1GD5
Graphics Engine
NVIDIA GeForce GTX 650 Ti
Bus Standard
PCI Express 3.0
Video Memory
GDDR5 1GB
Engine Clock
1033 MHz
CUDA Core
768
Memory Clock
5400 MHz ( 1350 MHz GDDR5 )
Memory Interface
128-bit
Resolution
D-Sub Max Resolution : 2048×1536
DVI Max Resolution : 2560×1600
Interface
D-Sub Output : Yes x 1
DVI Output : Yes x 2 (DVI-D)
HDMI Output : Yes x 1
HDCP Support : Yes
Power Consumption
up to 150W additional 6 pin PCIe power required
Software
ASUS Utilities & Driver
GPU Tweak
ASUS Features
DirectCU Series
TOP Series
Super Alloy Power
Dimensions
10.79 " x 4.72 " x 1.3 " Inch
This is the DirectCU II TOP variant of form Asus which means its their flagship model for this particular gpu i.e GTX650Ti. Its worth mentioning that its currently the most aggressively clocked GTX650Ti out in the market.The card is equipped with powerful Direct CU II cooler which is famous for good overclocking and low temperature. The card has DIGI+VRM feature which reduces power transfer loss while increasing efficiency. Super Alloy Power technology is used on the card which means better chokes, capacitors, mosfets are used to increase the lifespan of the card. Asus has bundled their own overclocking software with this card which is known as Asus GPU Tweak,it's a very efficient overclocking software.
The friendly overclocking tool from Asus aka Asus GPU Tweak: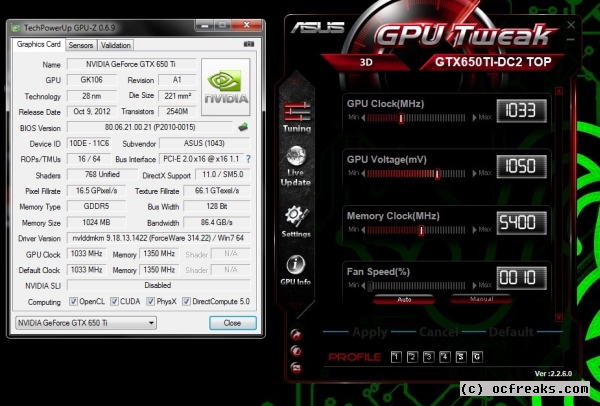 Now lets proceed to the showcase section…