Introduction to Bulldozer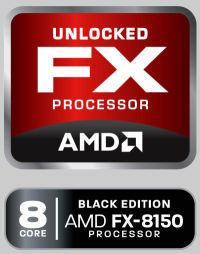 Well…AMD was kind enough to send us a package and we found a NEW CPU inside!Since we got the chip might as well do a review of it…lets see how it stacks up against its direct competitor the Intel Core i5 2500K
A few words on Bulldozer
AMD really reinvented the wheel on their Bulldozer. The FX lineup of CPU are different than any other CPU's out there…now if thats a good thing or a bad thing is question of debate and perception. With Bulldozer AMD tried the "less is more" approach.They put two cores side by side..and then decided what to share between them. At the end they decided to share the Front end , Floating point cores and the L2 cache. Take a look at the diagrams to see what they have done.
Bulldozer Concept and Reality
Now that we know what AMD wanted to do and what they did;lets dig a bit deep into the architecture,the next couple of slides will give you a fair idea about the CPU.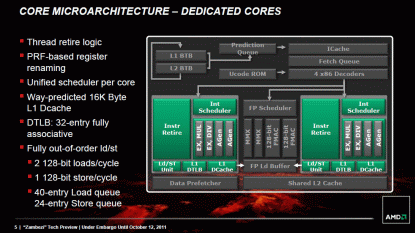 >Here is how it works :
there are two 128bit pipes through which to process data.The front end splits 256bit FPU content into two 128bit FPU opperations and sends through the pipelines.These operations have to be processed at the same time. So,the FPUs can do either two separate 128bit FPU operations or a single 256bit FPU operation. So,if a particular wants to run more than four 256bit FPU operations the lack of ability to split the workload further would result to potential performance loss because there are no extra FPU cores.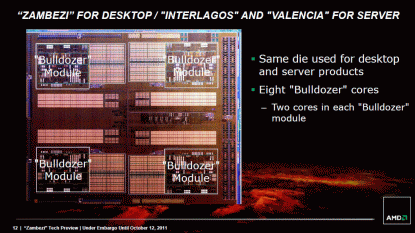 Above two slides show the die of the FX CPU.
Now here's some info for you so that you guys don't say it out wrong :
the die itself is called OROCHI
the Architecture is called "Bulldozer"
The code name of the processor we are looking at today is called "Zambezi" and the server variants are called "Interlagos" and "Valencia"
Well..lets hope you wont get it wrong again.
Since Server market is a big playground for AMD power management is a big deal..at-least for them. So Whatever improvement they do on the server side will get ported to the desktop side.Same story with the FX lineup also,the idle frequency is reduced to 1.4Ghz with a matching vcore. The changes between idle and load frequency are instant a one would expect.
Although power is not a big source of concern for us overclockers;for a regular consumer it is a BIG deal as bigger power envelop would ultimately lead to bigger cost.Now.i didn't have the chance to measure the power output from my system but after looking at some other user experiences i came to know that the average power output from an FX 8150 setup and 2600K setup are as follows :
| | | |
| --- | --- | --- |
| Test Setup | Idle (Watts) | CPU Loaded (Watts) |
| i7 2600K | 97 W | 158 W |
| FX-8150 | 121 W | 246 W |
There is a strong disparity between the two systems..so clearly in terms of efficiency getting a 2600k will make sense to a conservative buyer. They also have a advanced Turbo core,which has a base turbo and an advanced turbo. All cores can exceed their stock frequency (up to 3.9 GHz in this case) if the chip's TDP isn't reached.however If a multi-threaded load is applied, chances are it will take up the TDP and the CPU will operate at its base frequency (3.6 GHz on the FX-8150). Light loads will take advantage of the Turbo cores though.With a max turbo of 4.2GHz single threaded to quad threaded applications(majority of software's and some games too) will experience a nice boost of upto 600MHz depending on the processor.