Western Digital, in it's "Innovating to Fuel the Next Decade of Big Data" event held at the company headquarters in Silicon Valley, uncovered it's new breakthrough in Microwave Assisted Magnetic Recording (MAMR) Technology. The event involved a demonstration of the world's first MAMR HDD and a few presentations detailing the technology.
According to the statements made by the WD, they will be focussing their efforts to using MAMR in their High Capacity Hard Disks in the near future and put HAMR (Heat Assisted Magnetic Recording), whose growth has been at a crawling pace, in the backburner. The reason provided by WD for this is that MAMR offers significant advantages to HAMR, at least for the time being. Below, you'll find the numerous slides presented by WD explaining the same: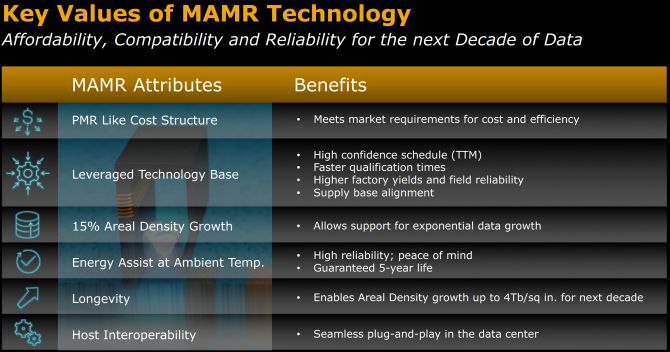 The main problem which contributed to MAMR remaining elusive till now was the implementation of the "Spin Torque Oscillator"(STO). The STO, simply put, is a microwave field generator operating at a frequency close to the Ferromagnetic Resonance of the platter. The microwave field generated by this is used to increase the ability to reliably record data at high densities. WD, it seems, has managed to find an innovative and efficient way to implement this.
Other developments made by WD that helped to pave the way to MAMR were their new improved Drive Heads and "Multi-Stage Micro Actuators". WD has been using "Damascene" process to manufacture it's Drive Heads with the precise tolerances and complex structures for reliable and cost-effective recording at ultra-high densities. The added advantage that this gives is that it enables the STO to be embedded in the Head Assembly without much further modification. The Micro Actuators were introduced to address the problem of accurate positioning of the Head assembly on High Data Density Disks. Increased track densities require finer control of the head that was unachievable using a single actuator, so a "micro actuator" was added to accurately position the head over the narrower tracks. This supports track densities of upto 400,000 TPI on a disk.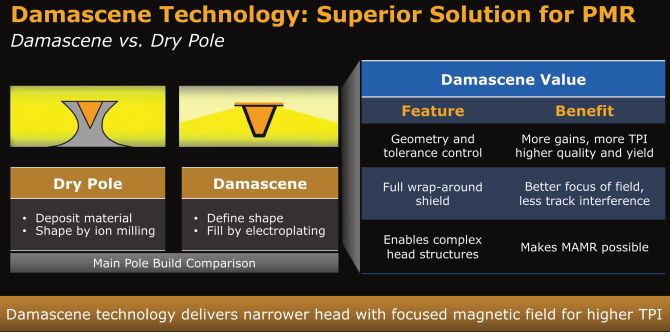 WD claims that using MAMR, they would be able to provide a data density of over 4 Terabits/sq.in(Platter Area). Also, using MAMR, they state that by 2025, they'd be able to provide hard drives with 40TB of capacity and beyond. These numbers are nothing short of astounding, and far surpass what the current expectations are using HAMR. So, it's no surprise WD is betting all it's money on this.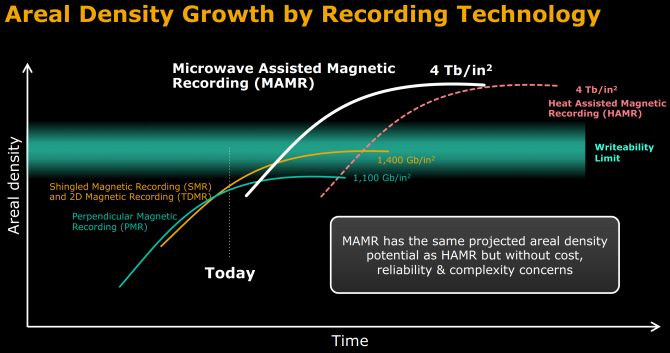 According to John Rydning(VP of research, IDC):
"Western Digital's demonstration of MAMR technology is a significant breakthrough for the hard disk drive industry,"
"Commercialization of MAMR technology will pave the way to higher recording densities, and lower cost per terabyte hard disk drives for enterprise datacenters, video surveillance systems, and consumer NAS products."
MAMR, as stated by WD, is another addition to it's growing list of innovation in the HDD space, which includes Helium Filled HelioSeal HDDs.
Release Timeline:
Western Digital has also revealed a timeline of how MAMR based HDDs will be rolled out. The engineering samples will supposedly be distributed by mid 2018 to WD's key datacenter customers. Production-level MAMR HDDs are expected to start shipping in 2019 for use in data centers that support Big Data applications across a full range of industries.