Software and usage Experience
Now lets take a look at the Software which is one of the strong points of Roccat. The Roccat Ryos MK Pro also comes with a standard software like every other Roccat device along with being supported by Roccat Talk FX. Roccat Talk is basically a protocol which enables Roccat Talk supported devices "talk" to each other. Here's what Roccat has to say about it
ROCCAT™ TALK® lets your compatible devices work together — so you can use that harmony to get powerful Set Bonus gaming advantages. The powerful ROCCAT™ Talk® protocol can also forge unprecedented software and hardware alliances thanks to a bold new feature called ROCCAT™ Talk® FX, which translates on-screen game action into exciting sensory effects on your gaming hardware – for a new level of intensity-packed play.
I would cover the Roccat Talk SDK later on if time permits, right now lets redirect our attention to the Ryos MK Pro keyboard.
Let us go through a short tour of the driver interface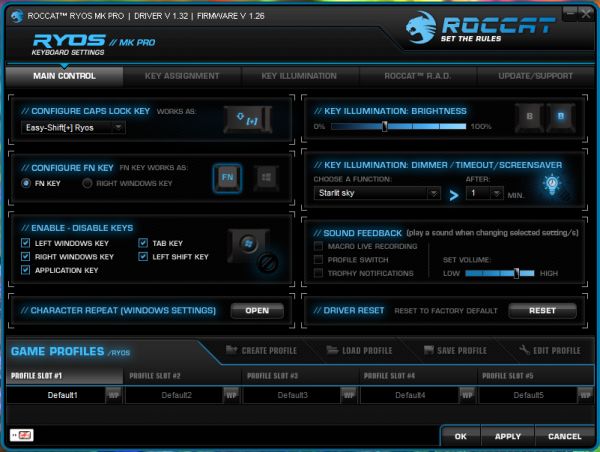 The first tab deals with the rudimentary controls like Caps key configuration,Key Illumination brightness,key timeout settings etc.

the second tab deals with Key function assignment and assignment of macro's.According to Roccat the Ryos MK pro can store upto 500 different macro's, we certainly didn't have the patience to try and test out the claim. But this humble reviewer and his friends managed to store and successfully run around 80 macros.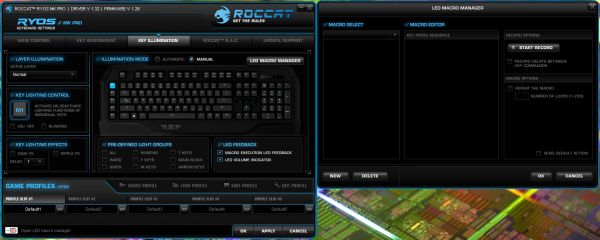 The third and the final deals with the per key lighting of the Ryos MK pro;also we see a nifty little feature here called the "LED Macro" where basically you record a macro like you do normally but when you run it instead of repalying an action it lights up different keys you have pressed during the recording process.
The possibilities are limitless here,so you can let your imagination flow.
We got a retail sample of the keyboard with the cherry red keys(no feedback,less actuation force), as such we got a very silent typing experience. Although the silence might at times make you press all the way down to get an awkward "clack".
The first thing we would like to point out is the keyboard is not one you can mess with,you keep it in one place and use it. Relocate if you are changing your residence or trying to to be batman with a deadly keyboard.
DISCLAIMER: NO JOKER WAS HARMED DURING THE MAKING OF THIS REVIEW.
now as far as usage was considered we were as through as it could be with the Ryos MK Pro, stored a few hundreds macro's,played countless hours of BF4 and TF2 and a few RPG's courtesy one of my associates. the Ryos MK Pro keyboard never failed to run a macro or failed to register a single keystroke.
So overall we can surely say testing this keyboard was a good experience.