Hi again guys! This time we will review QuantumZERO QZ-HD01 USB 3.0 SATA Hard Drive Dock. I had purchased it almost an year back since I wanted to backup data to offline HDDs and USB2.0 based adapters/converters didn't gave good transfer speeds(obviously). I am doing this review after using the QZ-HD01 Harddrive dock for than 7-8 months now. Some of you might know that QuantumZERO is a relatively new Indian Company into making USB related products. They offer quality solutions with good build quality. This USB3.0 HDD dock has driverless installation, meaning you need to just power-on the dock and attach the USB3.0 cable to your motherboard. Its plug-n-play and supports hot swapping drives. And yes, it is backwards compatible with USB2.0 and USB1.1, so no worries if your motherboard or laptop doesn't support USB3.0. It supports SSDs, Hybrid Drives & HDDs upto 6TB in both 3.5″ and 2.5″ inch formfactors. To achieve maximum transfer rates QZ-HD01 HDD dock also supports USB Attached SCSI Protocol i.e. UASP for short. But note that UASP requires the Operating System and Host Controller to support UASP. First lets go through the specifications.
QZ-HD01 Specifications
| | |
| --- | --- |
| HDD Dock Model | QZ-HD01 |
| Chipset | ASMedia ASM1153E |
| Output Interface | USB 3.0 |
| Supported HDD and SSDs | 2.5" and 3.5" SATA I, II, and III HDD, SSD and hybrid drives |
| Power Input | DC 12V 2A via AC Power Adapter(Included) |
| Weight | 372 grams |
| Dimensions | 180 x 120 x 40 mm |
| Supported Systems | Windows 10/8.1/8/7/Vista/XP, Mac OSx10.4 or above |
Gallery
The Box:


QZ-HD01 HDD Dock with accessories:


Closeup of USB3.0 cable end connectors:


12V Adapter:

Build Quality
The overall build quality of the Dock is quite good. The plastic used seems to be ABS, but I may be wrong. The outer surface of the 'bed' has fine-grain matte texture – it looks similar to sandblasted powder coated finish. The plastic below the logo is translucent black with glossy finish under which Power and Data LEDs are present. The drive fits snugly into the SATA connectors when sliding it along the drive bay. You just need to apply gentle pressure for the SATA connector to snap in. The newer version of the dock now comes with a lid which completely encloses the harddrive. The dock as a whole, could have been more sturdier.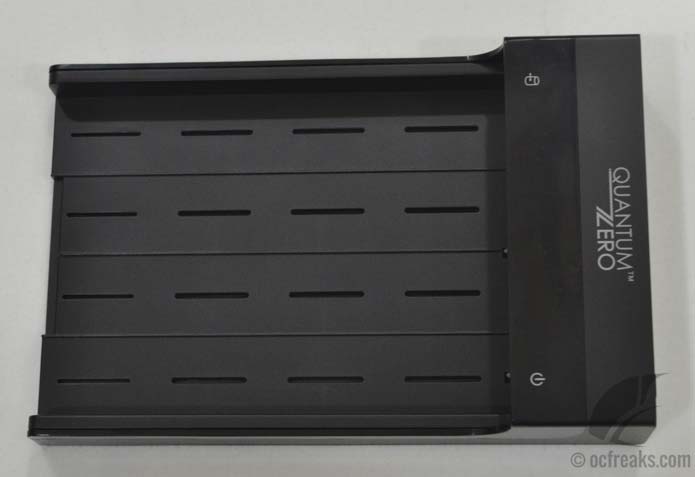 Inside QZ-HD01 – PCB and ASM1153E chipset:
The PCB is secured to the dock using 5 screws. The top layer of the PCB consists of the power circuit along with Power Switch, DC input Jack, USB 3.0 Type B connector, Power and Data LEDs. The power circuit includes FP6115 switching buck convertor IC. Now lets see what we have at the bottom layer of the PCB.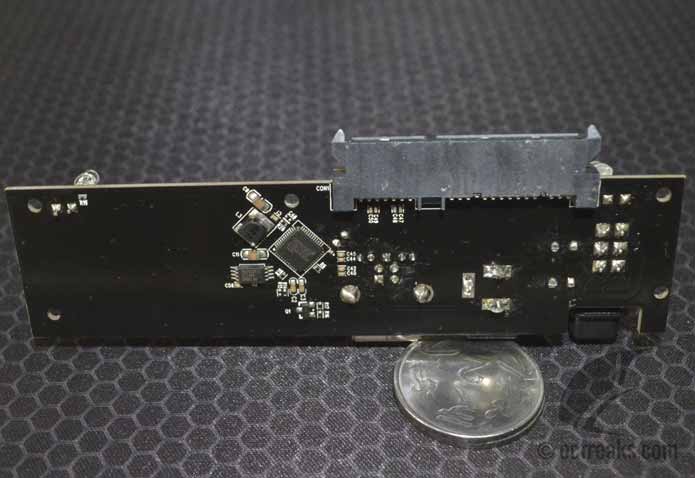 If not yet obvious, the first thing to note is that the Sata to USB Translator PCB incorporates ASMedia ASM1153E chipset. ASMedia is well known to Computer Enthusiasts and System builders since its controllers are commonly found on High-End Motherboards.
Here is a closeup of the ASM1153E on the PCB:
Overall the PCB quality is good with some hand-soldered components. I couldn't find any flaw with hand soldered components, all pads were covered up properly.
Benchmarks
The test Rig which I used for benchmarking is as follows :
| | |
| --- | --- |
| CPU | Intel Core i5 6600K |
| Motherboard | Asus Z170 Maximus VIII Hero |
| RAM | GSkill Ripjaws V 3600Mhz CL16 8GBx2 DDR4 |
| Primary Harddisk | Samsung 840 EVO 256GB SSD |
| Harddisk Used for Benchmarks | Hitachi HDS72101 1TB 7200RPM |
ASM1153E chipset based QuantumZero QZ-HD01 delivers exceptional performance, given its price, as shown in benchmarks below. For benchmarks the following softwares were used:
Crystal Diskmark v5.2.1 x64
ATTO Disk Benchmark v3.04
Diskmark
The tests were performed on Hitachi HDS72101 1TB 7200RPM Harddrive.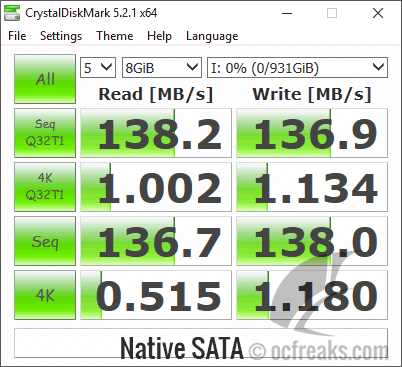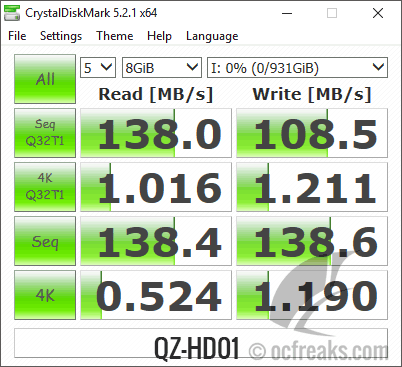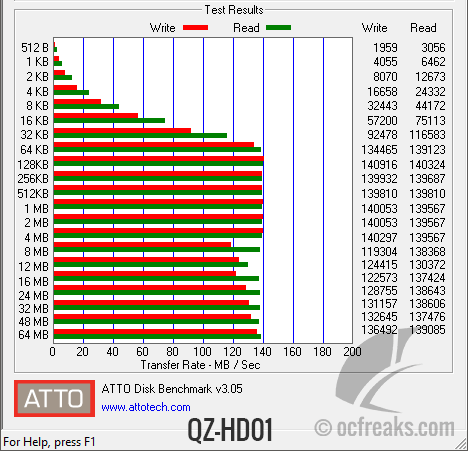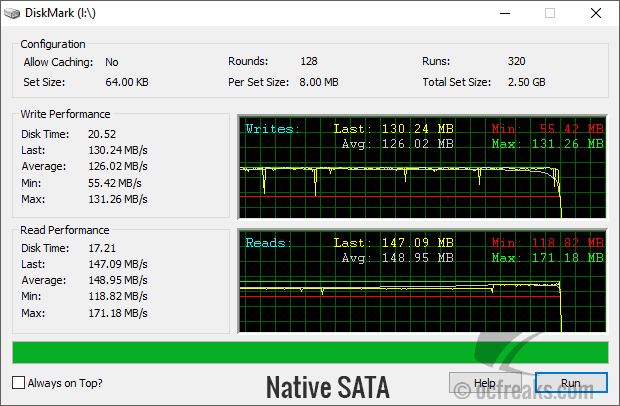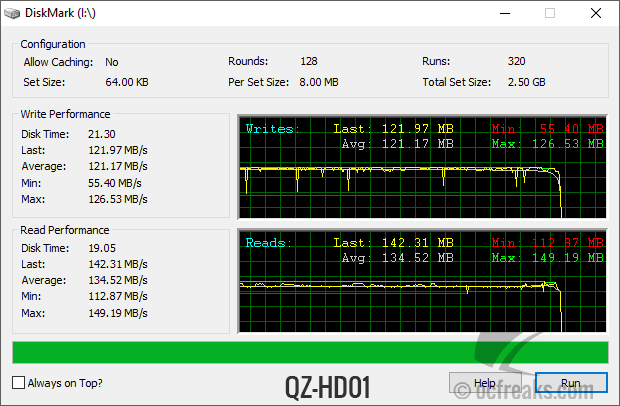 Final Thoughts
Uses ASMedia ASM11533E chipset
Excellent transfer rates
Comes with good quality USB 3.0 cable, not the cheap dodgy ones
Plug-n-Play, Supports Hot Swapping & UASP
Could have been more sturdier
Lacks an HDD locking mechanism (The newer version now comes with a dust cover)
For many the price might seem to be on a higher side (But for me the Quality and Performance "almost" Justfies the price)
Quantum Zero QZ-HD01 USB3.0 HDD Dock
After looking at all the aspects including Quality of construction, Features, Price and Performance I'll give it a 4.25/5.