Its been years since android is introduced , we have always found that only the nexus line been providing performance + budget friendly combo all together in a sweet package. recently, this opinion is being changed by some companies who fight neck to neck to take that crown which nexus has been holding from a long time. Here we have another contender who have joined the bandwagon about 6-7 months ago but has reached the indian shore recently, the Oneplus One!!. Lets find out whether its worth the price tag of 21999/- rupees, and does it justifes their companies motto "NEVER SETTLE" tag. First lets gp through Specs and Unboxing.
Specifications:
| | |
| --- | --- |
| CPU & RAM | The Oneplus One comes with Qualcomm Snapdragon 801 quad core 2.5ghz processor and 3gb LP-DDR3 1866MHz ram |
| GPU | Adreno 330 , 578MHZ |
| Display | 5.5 Inch JDI Full HD (1080p) Display @ 401 ppi with Corning Gorilla Glass 3 protection |
| Camera | Primary : 13MP sony exmor IMX214 with f/2.0 aperture and dual flash, Front : 5MP |
| Storage | Comes with fixed Internal storage of 64GB , with no expansion capability |
| Battery | Non-removable 3100mAH battery |
| Software | cyanogen 11S based on Kitkat 4.4.4 |
| Connectivity | GSM:850,900,1800,1900MHz, Bluetooth 4.0 ,Dual band wifi (2.4G/5.0G)802.11 b/g/n/ac , NFC 65t,Internal GPS antenna +GLONASS Digital Compass |
| Dimensions & Weight | 152.9×75.9×8.9mm5.71 ounces(162g) |
Unboxing: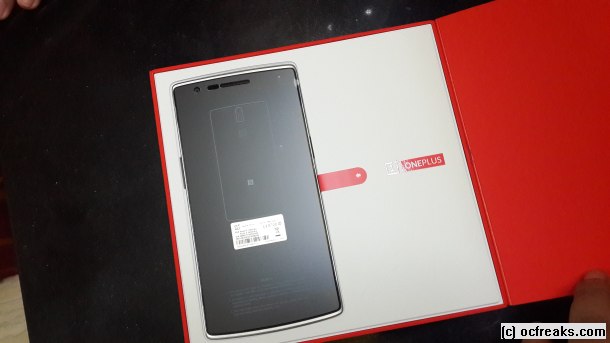 Oneplus , the company came with an idea to create one device with all the features of a flagship while being easy on your wallet. As a result , "One" is their first device which is crafted the way the company wanted it to be. i.e , a device that looks stylish with an OS which is loved and supported by millions of users for its customization feature along with top of the line specs with a sweet price tag of 21999/- rupee it seems the company is on a right track for fulfilling their motto.Oneplus One has the specs to blow out any enthusiasts mind who has been a fanboy or had a thought that a flagship killer can't be sold at this price. Oneplus One runs with Qualcomm snapdragon 801 chipset clocked at 2.5Ghz,has 3gb DDR3 ram, shockingly a 64gb inbuilt storage ( yes I meant 64gb !!),all powered with a juicy li polymer 3100 mAh battery(non removable).
UI Screenshots: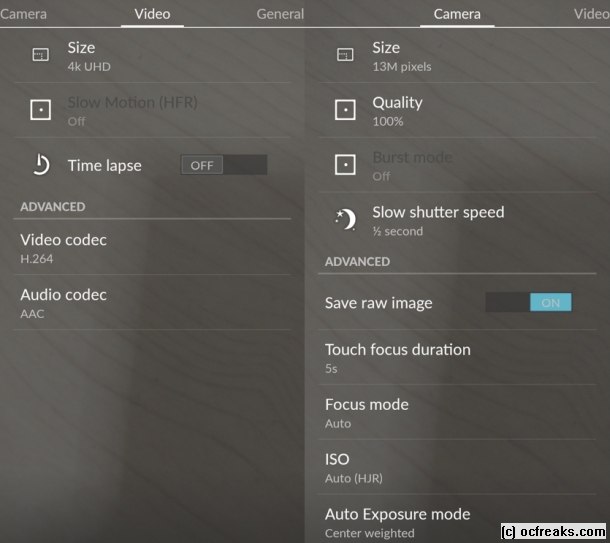 Design:
The design of the device is very simple yet stylish, buttons located at perfect location ,has a 5.5 inch display yet it doesn't feel clumsy or big when held in hand, the back is designed to give a sandstone feel along with a Oneplus logo sitting below the camera.the device has 1 sim slot which can take a micro sd card(people with nano sim doesn't need to worry u get an nano to micro sim sachet tray for it in the box.). It has a usb 2.0 micro usb for charging and for data exchange with pc or OTG. the device sports 3 microphones, one besides the camera, one on the top of the device while the 3rd one at the bottom and finally the device has an led notifier (multicolored).
Display:
The Oneplus one has a 5.5 inch full hd JDI screen with gorilla glass 3 on top of it to protect it from scratch or damage.the viewing angles on this device is pretty damn awesome. Looking it at from any side angle will always give u the same image that u might expect. Well the company claims of 178 degree viewing angle , is proving to be 100% right.
Camera:
Coming onto the camera, the device is packed with a 13 mp main shooter , with aperture of f/2.0 and a 5 mp front shooter for all those selfie fans out there. The image sensor on both front and back camera is pretty damn awesome and man the software side of the camera is easy and has pretty cool features in it too!. The camera outputs are great that you would expect.also the device supports 4k video recording, slow mo recording(60fps at 1080p,120 fps at 720p) too.
Speakers:
The speakers on this device are dual speakers, located at the bottom of the device, and they are loud enough as u can expect it to be. Talking about the audio, if u are an audiophile, u would simply love its EQ settings which comes pre-installed. There are many preset modes for your headsets, Bluetooth device , speakers , as well as custom settings which u can do to adjust according to your taste.
Multimedia Support:
Looking over the multimedia support the device supports a variety of multimedia formats.in audio it supports MP3, AAC, AMR, OGG, M4A, MID, WMA, FLAC, APE, AAC, WAV etc while recording in AAC and M4A.while for video it supports MP4, H.263, H.264, RMVB, FLV720P while recording in MP4. Image formats are JPEG, PNG, GIF, BMP and outputs in JPEG. Raw outputs also supported.
Software:
Coming to the software, its designed by cyanogen team by creating the rom from scratch just for the Oneplus One basically known as cyanogen 11S. The software is as close to pure Android yet there are many options to play with it. For ex, u can change themes, Icons, fonts, button layouts, gestures, etc name it and its already there. Oneplus One is on Kitkat 4.4.4 and will get updates fast as promised by the Oneplus community.(The OTA issue is discussed below).
Performance:
Throw any app at it, it runs flawlessly without a sight of lag. The device wont go down at any cost and will keep up unless it has juice left in it.For gamers out there, this device is a smoking game machine. talking about the juice ( battery life) I would say this thing stays on for atleast 2 days on normal usage and should suffice for a day if you are a hardcore users. I tested out the device using continuous mail syncing, facebooking , instagraming (all on 3g), video recording(slow mo and stuff),gaming, whatsapping etc. I was still left with 5% of battery life at the end of the day with more than 4 hours of screen usage.thats pretty impressive from a phone with this specs and pricing.while playing video loops on the device gave impressive timing of more than 9 hours 30 mins life.Very few Devices have this steady juice capacity to provide even on hardcore use.Also there are 3 preset battery saver modes added to adjust the milage of the device battery according to your usage.Oh one more thing to share,Oneplus One doesn't heat much at all. Mostly u will just feel a little warmth when playing 3d games that's it, it doesn't feel like it would melt in your hands or your hands would burn or anything like that.
The OTA ISSUE
Recently there was an official statement from cyanogen team that it wont give OTA updates to Oneplus one that is purchased locally (i.e from amazon india).While the One that is bought from the global site is updatable and will be supported by cyanogen. This statement came out just before the launch of Oneplus one in india and even the Maker of the device was shocked with the decision cyanogen made. The actual reason behind it is the partnership of cyanogen with an Indian mobile maker company which makes them exclusively sole company to use the cyanogen rom(which is being used by the Oneplus one currently) in India. But there's a way around it for those who already purchased Oneplus One from the Amazon stores. If you are familiar with cyanogenmod roms flashing systems(most of you would of course be) then you can flash the rom updates of Oneplus one global devices straightly by downloading it from their websites. Otherwise Oneplus has made annnouncement that they will provide lollipop update (community build by end of December) final build by February. So there is no need to be afraid of the OTA issue or any update issues as the company has promised it will support the device for 2 yrs minimum. (Rejoice indian Oneplus one users)
Conclusion
Pros :
Excellent battery life.
Top of the line performance.
LTE support.
Highly customizable.
Good Bang for Buck.
Vast Database for helpful users on forums.
Cons :
Camera performance is good.
But Lack Of OIS makes low light image Grainy or dull.
There is hardly any other match for this device at this pricepoint. At 21999/- you cant get any better than the ONE. There are few devices like the nexus 5 which u can buy for 26000/- , but keeping in mind the pricepoint and the specs I wouldn't suggest to add additional money and getting a nexus.The final word would be, that this device is One heck of the Flagship that can be called "The Chosen One" . So you don need to think twice. If you get a chance to buy this device,just grab it and you wont be disappointed.