Introduction
The PC Cabinet space has seen a lot of changes in the recent years, both good and bad. It has certainly traversed a long way, and the cabinet has now become as much of a pièce de résistance of the PC build as it is just a humble container for the components. While I dont really mind much when manufacturers go to extreme lengths to just make a cabinet look better, it does get on my nerves when they choose to ignore the features and primary purpose of the cabinet in lieu of aesthetics, and use good looks as a justification for exorbitantly high prices. In this era of apparent hopelessness, comes the NZXT's Source series as a breath of fresh air. With it's simplistic styling, ample room and abundant features all at a reasonable price, it has earned the respect of many PC builders.
This review is of the Source 530, the biggest cabinet in the Source series.
Specifications
Size
Full Tower
Model Number
CA-SO530-M1
Drive Bays
External 5.25″ x 3
Internal 3.5″ /2.5″: 6
Internal 2.5″: 1 + 6
Fan Support
Front 2x140mm/ 120mm or 1x200mm
Rear 1x140mm / 120mm (1x120mm included)
Bottom 2x120mm
Top 2x140mm or 3x120mm (1x120mm included)
Interior 1x120mm/140mm
Clearance
CPU Cooler 183mm
VGA Card 282mm (With Cage & Pivot Fan), 310mm (With Cage), 444mm (Without Cage)
Cable Management 26mm (Lowest Point)/ 34mm (Highest Point)
Dimensions
235mm x 507mm x 510.5mm
Construction
Steel, Plastic, Mesh
Motherboard Support
ITX, Micro-ATX, ATX, EATX (322x272mm)
Expansion Slots
8
I/O Ports
1 x Audio / Mic
2 x USB 3.0
UPC
15671011695
EAN
5060301690961
Warranty
2 Years
Packing and Accessories
The Source 530 comes in a corrugated cardboard packing which is pretty much standard for PC cases. On the front of the package is a front view render of the case. On the left side, an angular projection of the Source 530 in all it's glory is printed out as a promo, and the right side features, ahem, the various features of the case. Vents are cut out in the front and back of the packing to make carrying it easier.
Inside the packing, you'll find the case wrapped in a plastic sheet to shield it from moisture and dust. Styrofoam packing inserts are given in the top and bottom of the case to protect it from any shocks encountered while transit. A user manual is also provided with the case to help you with your build.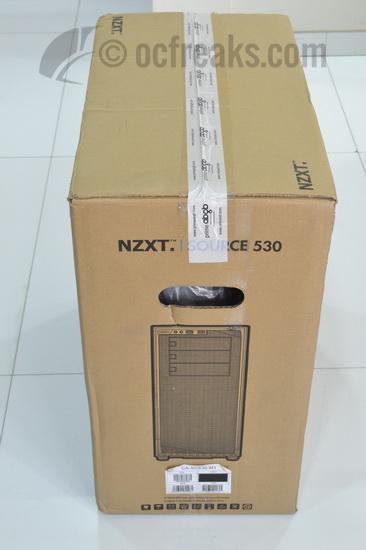 Packing Front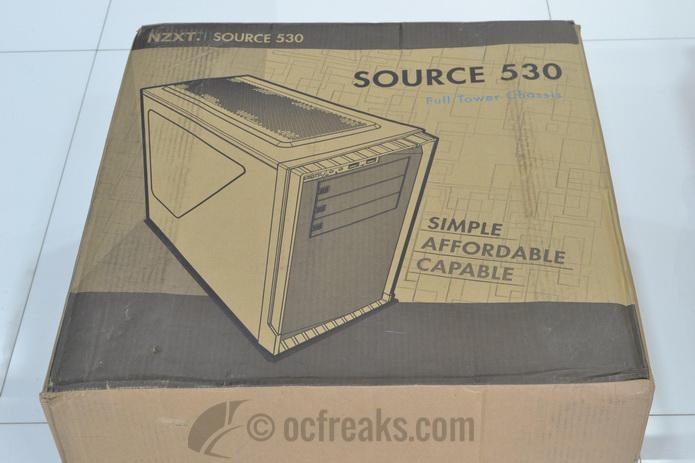 Packing Left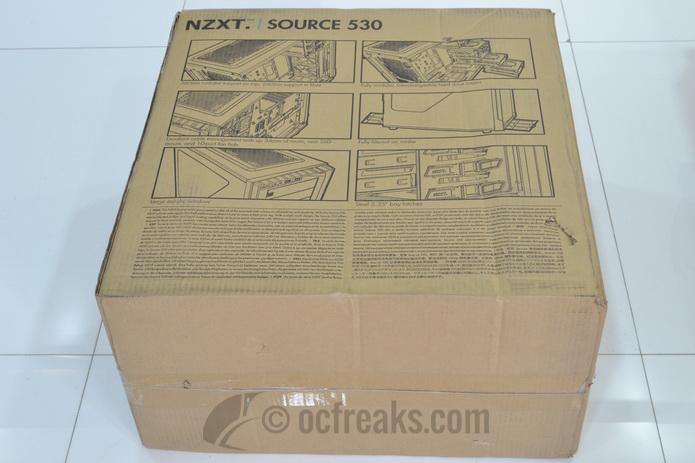 Packing Right
Packing Inside
Exterior
The Source 530 has a fully meshed front panel covered around the edges by plastic. The steel mesh is slightly angled on the top-right and bottom left portion. On the top portion of the front panel you'll find an embossed NZXT logo, two USB 3.0 ports and 3.5 mm jacks for audio in and out. Below that there are three tool free (latch type detachable) 5.25″ bay covers that are also meshed to give a uniform look.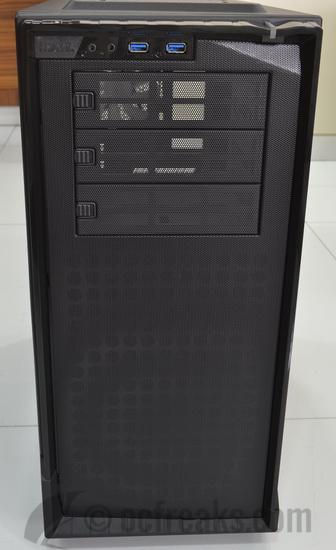 Exterior Front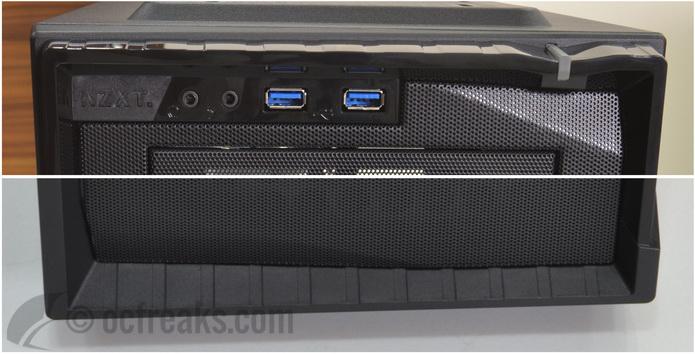 Exterior Front Angled Parts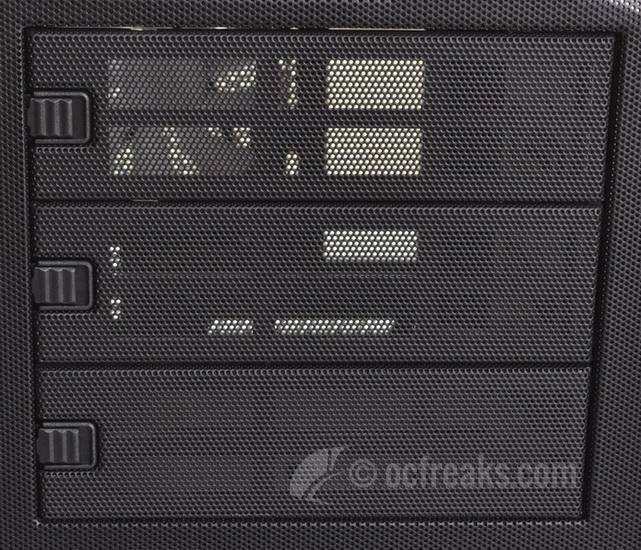 Exterior Front Drive Bays

Exterior Front IO
The right side lip of the plastic edge is slotted on the top for three buttons; Power, Reset and a third button that lights LEDs provided on the back for rear I/O. Pretty cool and innovative! The left side panel has a trapezoid shaped transparent window rivetted to it. The right side panel is just the regular plain steel. The side panels can be removed by removing the thumb screws on the back and simply sliding them out (duh!!!).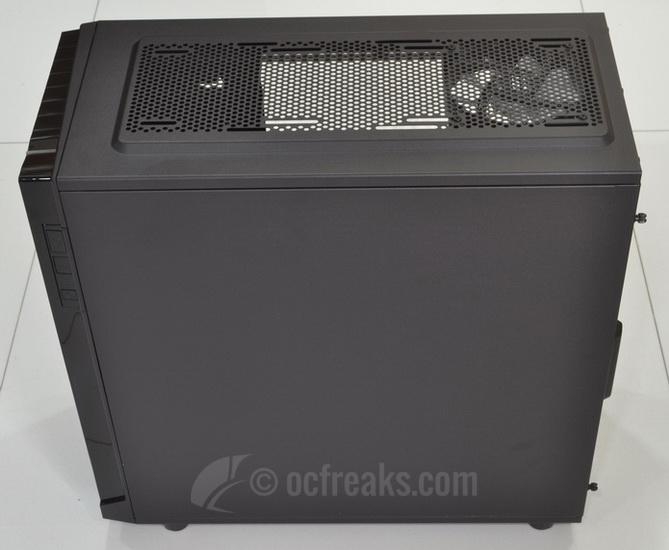 Exterior Right

Right Lipped Part Slot for Buttons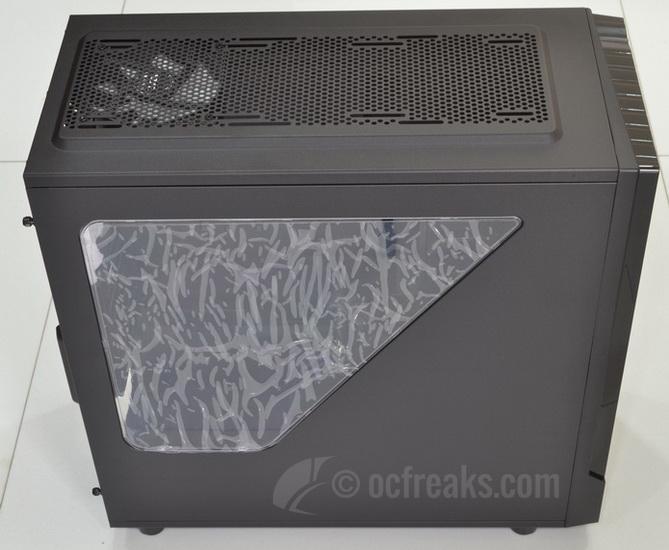 Exterior Left
The top of the case is again, meshed(but with slightly bigger holes and pitch for exhaust). The top is slightly elevated at the middle to provide more clearance for thick radiators and/or fans. Three 120mm/Two 140mm fans and/or radiators can be mounted at the top. The mounting holes are kept slotted to account for any tolerances and position adustments.

Exterior Top
On the back of the case is the normal arrangement of one 120/140mm exhaust fan mount(with slotted mounting holes) and the backpanel slot at the top, eight expansion slot covers at the middle and the PSU mount at the bottom. Apart from these, you'll also find 2 rubber grommets at the mid-right portion for passing through the tubes in case you've got an external water cooling setup. Pretty handy.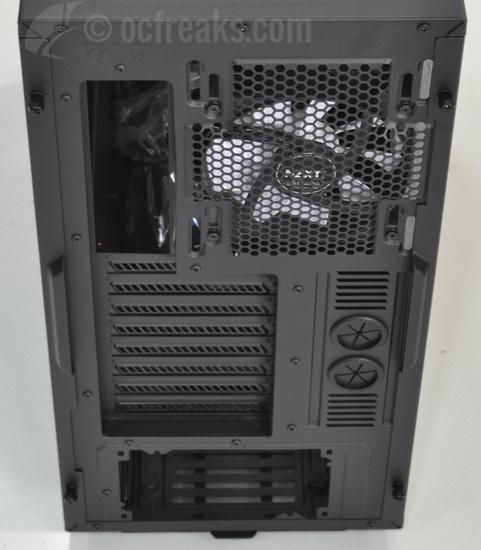 Exterior Back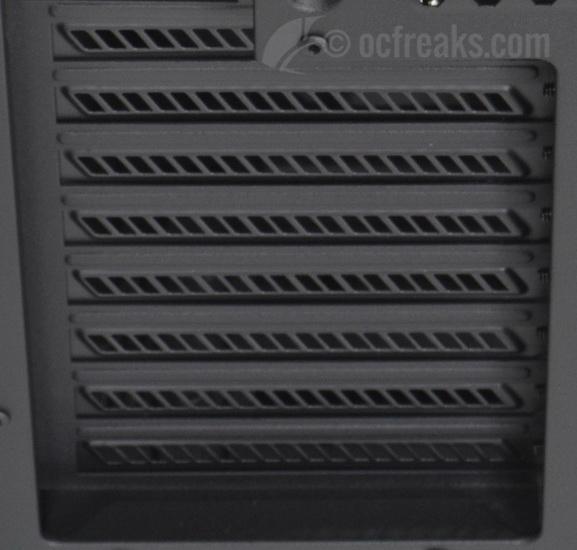 Expansion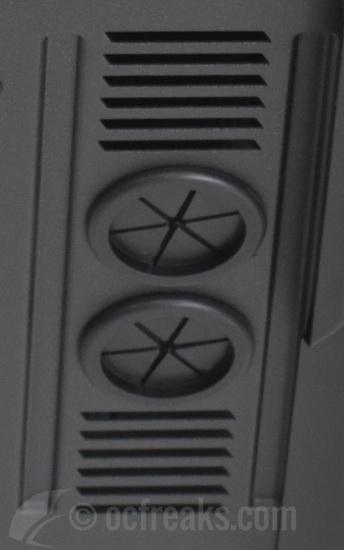 Grommets
On the bottom of the case there is a tray type dust filter provided that can be slid out easily. Also, four rubber pads are given to keep the chassis stable and fixed.

Exterior Bottom
Exterior Bottom-Dust Filter
Interior
Removing the front panel exposes mounts for two 120/140mm fans or one 200mm fan.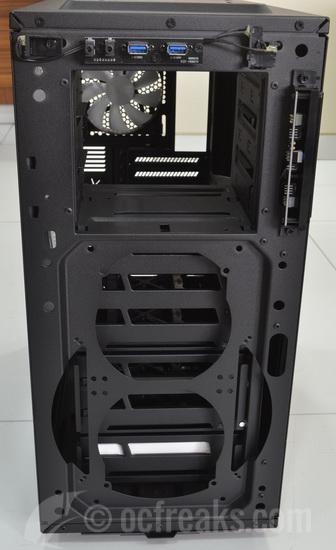 Interior Front
Front Panel Removed
The left side of the chassis accomodates the motherboard tray, the drive and PSU bays. The motherboard tray comes prefitted with standoffs. It has an assymetrically placed cutout to provide access to the CPU Cooler backplate. Apart from this five other cutouts are provided for cable management. All the coutouts are hemmed to provide smooth edges. On the PSU bay, six rubber dampeners are provided to keep PSU induced vibrations and noise to a minimum. There is also space for an additional 120 mm fan towards the front of the PSU bay. The three 5.25″ external drive bays are tool-free and have latches to hold the drive in place. Below these are three modular 3.5″ drive cage sections that can house a total of upto 6 drives(Top Section-3; Mid Section-2; Bottom Section-1).The top section has a tiltable 120mm fan mount attached to it.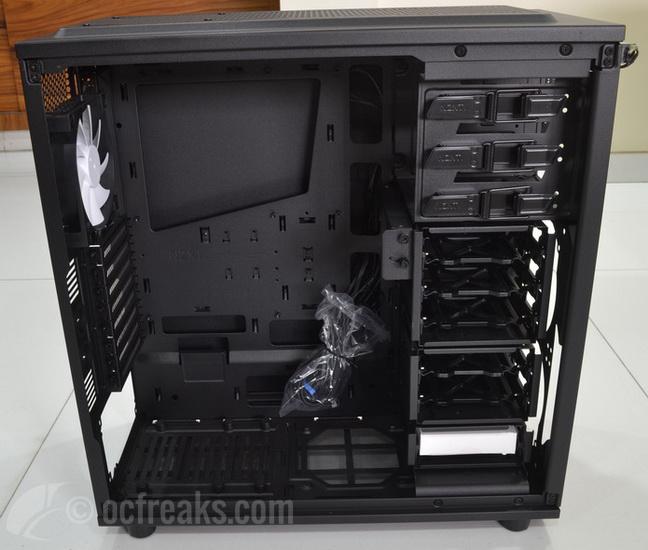 Interior Left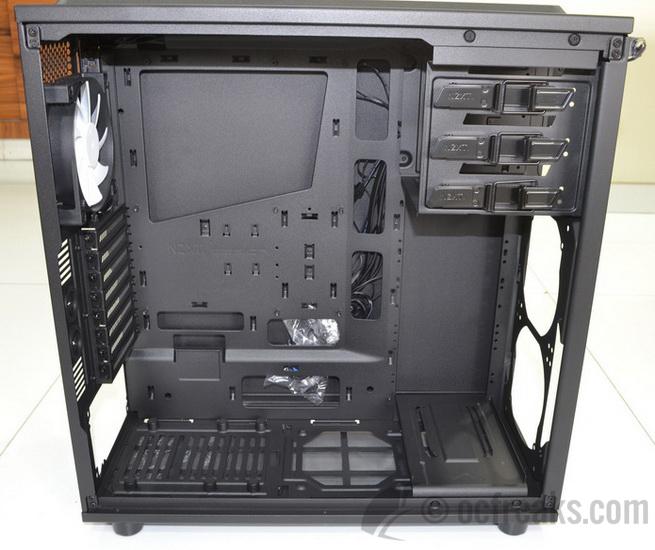 Interior Left w. Drive Cages Removed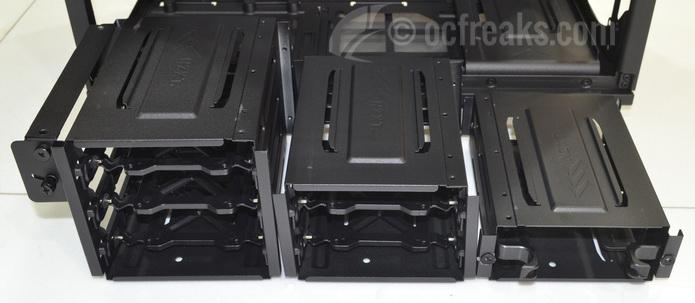 Removed Drive Cages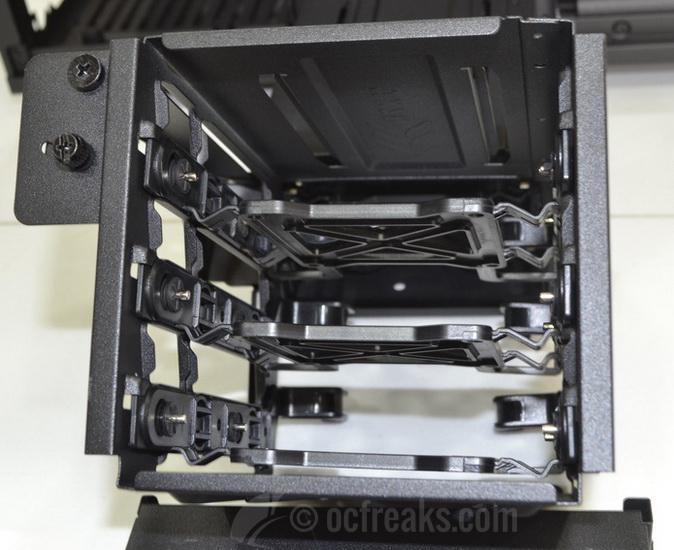 Drive Cage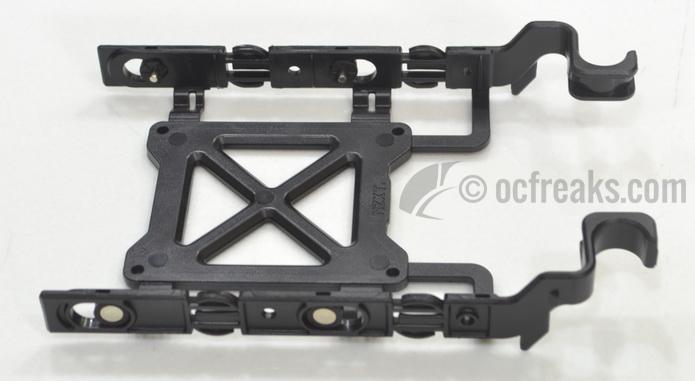 Drive Tray
Drive Bay Latch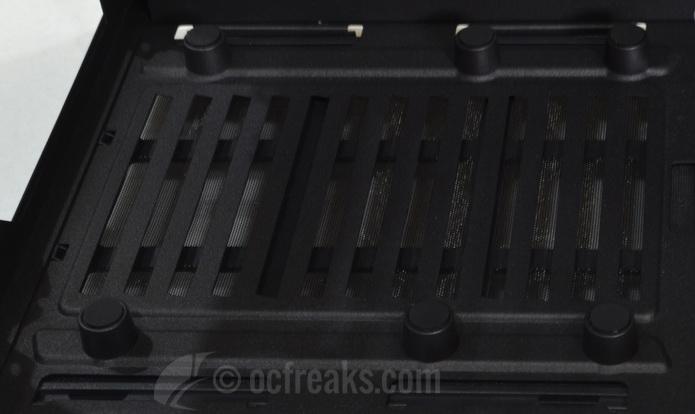 PSU Rubber Dampeners
On the right side you'll find a 2.5″ Drive mount, perfect for low profile SATA SSDs. Adjacent to this NZXT has provided a PCB with all the chassis fan connections (FAN1-FAN11) broken out. Really helpful to keep the wiring organized when you use more than 4 fans in your chassis.
Interior Right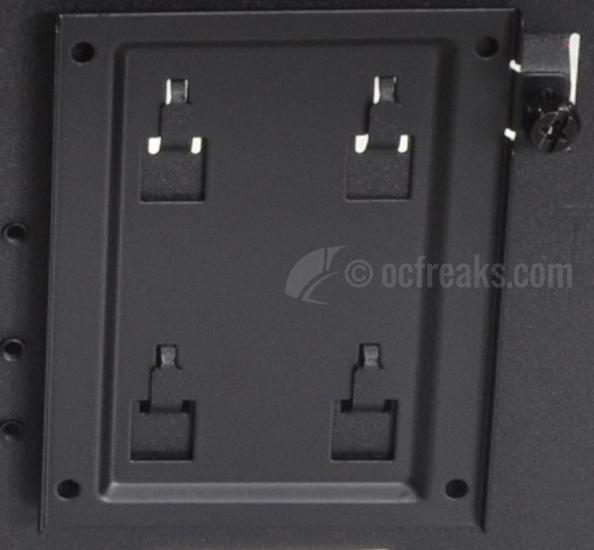 2.5″ Drive Mount
Fan Connections PCB
NZXT provides two 120mm fans with the Source 530 case. One fitted at the back and the other at the top.
The Build
Specs:
CPU
Intel Skylake i5 6600k
Motherboard
ASUS Z170 Maximus VIII Hero
CPU Cooler
Noctua NH-U14S
RAM
G.Skill DDR4 F4-3600C16D-16GVK 8GBx2
GPU
AMD Radeon HD6950 2GB
Fan Config
Front: Silverstone AP121 120mm ; Noctua NF-F12 120mm
Back: NZXT 120mm (Inc. in Case)
Top: NZXT 120mm (Inc. in Case)
Storage Disks
Samsung 840 EVO 250GB[Primary]; WDC WD20PURX-64P6ZY0(x2); WDC WD10EADS-00L5B1; WDC WD15EADS-00S2B0
PSU
Corsair HX850
Images: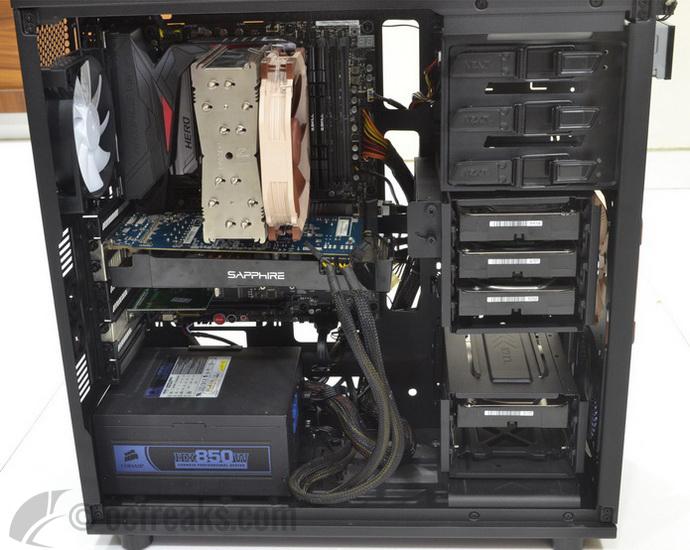 Build Interior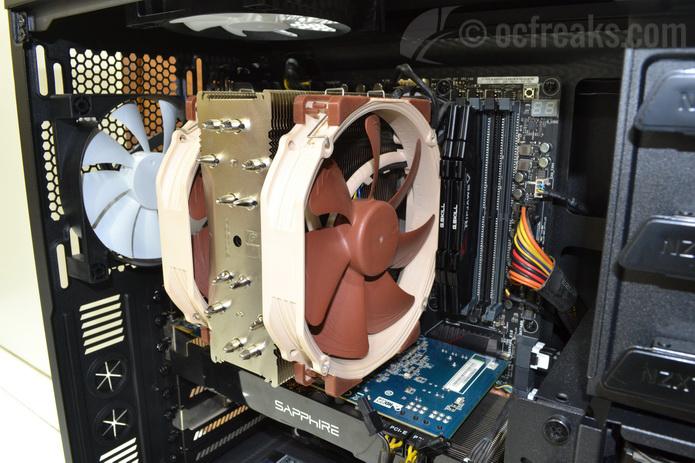 CPU Cooler
Front Fans
Side Window
Temps:
Min. Temp (in °C)
Max. Temp (in °C)
Avg. Temp (in °C)
CPU[Intel i5 6600k]
34
40
36
Motherboard[ASUS Z170 Maximus VIII Hero]
33
36
35
GPU[AMD Radeon HD 6950]
49
52
48
SSD[Samsung 840 EVO 250GB]
38
39
40
HDD #1[WDC WD20PURX-64P6ZY0]
33
37
35
HDD #2[WDC WD10EADS-00L5B1]
34
38
35
HDD #3[WDC WD20PURX-64P6ZY0]
32
37
34
HDD #4[WDC WD15EADS-00S2B0]
35
38
36
Note: Temps taken at idle over a 20 min duration at 2 min intervals. Average(rounded off values) calculated from the 10 samples. All fans running at default speeds.
Closing Thoughts
I must say I'm pretty impressed with the Source 530. Not only does it look simple and inconspicuous (No one's gonna stare at THIS like it's something that's come straight out of a sci-fi movie!!!), it's also a pretty capable performer in it's own right. The temps achieved in our tests were pretty stable and well under control. For anyone who's looking for a simple looking cabinet with a good build quality, I highly recommend having a look at the Source 530. Trust me. You wouldn't be disappointed in the slightest.
Pretty Sturdy Build Quality
Simple No-Nonsense Design
Great expandability options
Rear I/O lighting is a feature I don't think I could live without from now!
Ample space to fit most GPUS
Plenty of space for cable management
Can accommodate most (according to specs, upto 360mm radiators) AIO water cooling solutions and CPU air coolers.
Quite Reasonably priced for a full tower
Lacking in Front I/O capabilities
Lack of external 3.5″ Drive Bay.(May put off those looking to use a Front USB/eSATA Bay to expand Front I/O capabilities, But you could always use an adapter for that)
A PC Cabinet with simple looks and Great build Quality that can support most mammoth CPU Coolers, Radiators and GPUs. If you aren't put off by the meek looks, I'd say go for it!!!