i will let the pictures do most of the talking here.
And please dont mind the background in some pic.
Am not too sure what to make of the front (i was never an artistic person u see). Antec does a pretty decent job of mixing a transformer face with mesh for airflow, and it works. On a side note the face looks like a mixture between autobots and decepticons.
the backside got a place for a 120mm fan and ports for watercooling pipes with the psu placement at bottom. Pretty standard stuff. i would have liked some thumbscrews on the expansion covers though.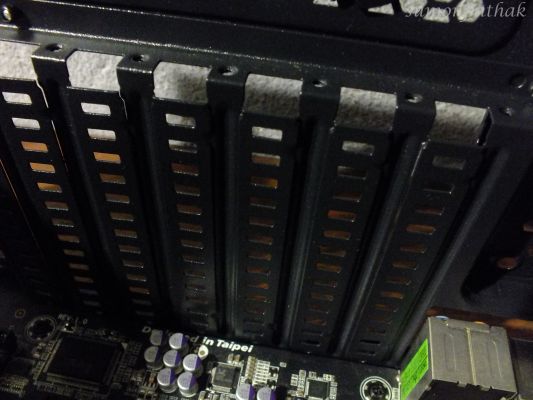 Now the interiors.
the V1 is a no frills entry-level cabinet, as such i didn't expect any cable management options. and i didn't find any.Its specious and offers a fair amount of space to move around if you are not using any a very big cooler like a NH-D14. CLC's wont give much of a problems. here.
but let me warn you though with a full atx board you will feel the cabinet is filled to the brim.
Coming to the backside, the main plus is the cpu cut out. It makes the installation pretty hassle free. But there is little to no scope of cable management in there.
The front panel has a both usb 2.0 and 3.0, which i feel is not needed since usb 3.0 is backward compatible.
If you look closely the reset button is hidden there..
The side panel has the place of one more 120mm fan
While the top has an option of 2x 120mm or 1x 140mm fan.
There is is..not much to say…i would close this with a closeup of the fan.
next page please…